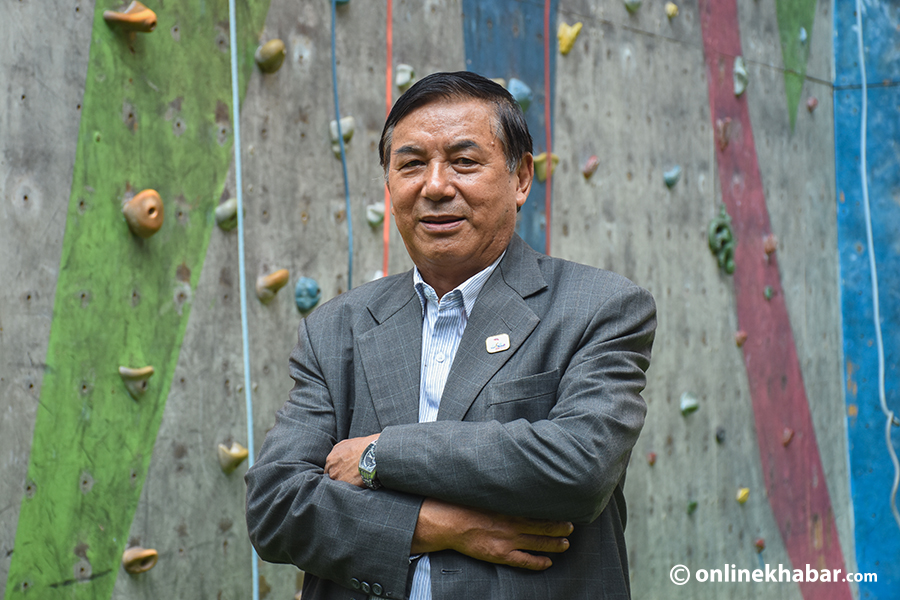 Ang Tshering Sherpa was born in Khumjung Solu Khumbu, to a yak trader and mountain man who befriended Edmund Hillary. Sherpa received his education at a school set up by Hillary. He was involved in mountain various expeditions, helping his father assist climbers. In 1982, he bought a trekking company called Asian Trekking, which grew into a trusted name in the business. Sherpa, who also served as the chair of Nepal Mountaineering Association, is also the President of Climate Alliance of Himalayan Communities (CAHC) and Honorary Consul of Belgium to Nepal. Onlinekhabar's Shashwat Pant recently talked to Sherpa about mountaineering on Everest and issues that have come to the fore during the climbing season this spring. Translated excerpts:
Let's begin by talking about the yesterday of mountain climbing in Nepal. How was it different from what it is now?
Until the 1990s, we had a system called the 'one-team-one route' system under which only one expedition would be allowed to climb a mountain using one route. But after the restoration of democracy, the government started issuing permits to multiple groups for the same route. There are many routes to mountains such as Everest, but most of them are difficult. There's one route via the South Col which everyone wants to take.
Similarly, the climbing equipment used to be heavy and bulky. A lot of improvements have been made in the last few years to make thing s more comfortable. There was a time when Sherpas did not have the skills nor the training to climb mountains. We didn't get weather reports the way we do now. We had to rely on brute force.
In 1963, when the first American expedition came to Nepal, their communication equipment had to be carried by seven porters. But now communications equipment have changed and become smaller. An average bottle of oxygen would weigh around 7-8 kgs. But now it is hardly 3kg.
If you talk about the climbers, things have changed there as well. In the past, we used to have expeditions from specific countries–the government in those countries would sponsor such expeditions. The team members would climb another mountain together before coming to Everest to improve their coordination. But now we have mixed teams whose members do not know each other until they reach base camp.
How important is mountaineering for Nepal's tourism?
Mountaineering provides employment to so many people and brings money to Nepal. It is also one of the biggest means to promote Nepal. Whenever someone decides to climb Everest, the person talks to the local media about his/her plans. When they come here, they send constant updates saying they have reached base camp, they have set foot on Camp II and so on. Journalists also come to Nepal to cover the expeditions. Their family members friends and sponsors are also interested in what goes on. When someone is done summiting Everest, he/she writes a book, prepares a documentary or presents his/her story before large gatherings. We've seen that expedition members have made effective promotion of Nepal.
Over the years, various issues have propped up in the mountaineering business in Nepal. The first of these problems is that Everest is becoming dirty.
The first thing I want to say is that because of climate change, snow is melting and waste that was buried in snow is propping out. The other thing is that in 1993, a photo in an international magazine showed that Everest was becoming a garbage dump. The photo brought a lot of criticism, but it also raised our awareness about the issue.
In 1996, we conducted a clean-up campaign and started a scheme under which we provide cash for waste. The government also introduced a system under which climbers have to deposit a certain amount as a waste deposit. There is an anecdote I want to share. I remember a Russian team making its way to the base camp huffing and puffing and carrying loads of garbage on their back. They were thinking that Nepali officials would come to inspect their waste. But no one came. This shows that we need good monitoring to back up rules to keep the mountain clean.
Do you think mountaineering in Nepal, received a lot of bad press this year especially because of the infamous 'traffic jam'?
I think we could have easily managed the traffic jam. The representatives of the mountaineering operators' association tried to coordinate the expeditions, but the operators did not coordinate with them. This year, we had a climbing window from May 21-25. While 60 people made their way to the top on the 21st, 300 attempted to climb the mountain on the 22nd. But on the 24th only 15-16 people attempted, and by 25th everyone had left. If the expeditions had coordinated, then 100 people could have attempted on 22nd, or 50 people on the 23d and so on. They would not have had to stand in line for a long time. The three-hour-long jam tarnished Nepal's image; as climbers spent time on the line, they got altitude sickness, some of them suffered from frost bites.
Do you think any of the nine deaths this year could be attributed to the traffic jam?
No, one died of the traffic jam this year. What happened was that some of the climbers spent all their energy going up, and they did not have it in them to come down.
The other important issue we face is that of human waste. During the climbing season, which lasts for around one-and-a-half months, we have 700-800 people on a mountain where we don't have toilets. This is a problem with all popular mountains. For that reason, we came up with the idea of Everest Eco Expedition in 2008. Under the expedition, we bring special bags made in America to dispose of human waste. The bag has special enzymes that decompose human waste. The bag itself is also biodegradable–it degrades in around three years. We bring the human waste to Gorakhshep and bury it in pits. Even if we fail to bring the bags to base camp, it will decompose in three years. I think that all mountaineering companies should use these kinds of bags, the government should also make it mandatory for them to use it.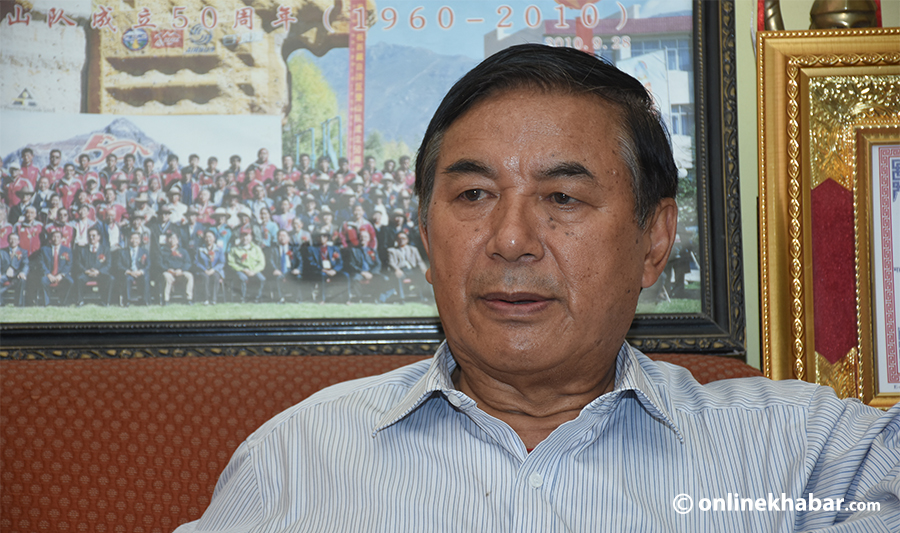 Following reports of deaths on Everest and the government's decision to issue a record number of permits this year, there have been calls to reform the way permits are issued. Some are saying that the government should make it mandatory for anyone who wishes to climb Everest to at least climb a 6,000m-odd mountain to prove that they are worthy of climbing the highest mountain in the world. It this something new?
Yes, we suggested to the government to implement a rule that would make it mandatory for anyone who wishes to climb Everest to first climb a 7,000m peak. We did that for two reasons, first the climbers themselves would be more confident and second, the human resources we have could be utilised better. But we could not implement the decision as foreign climbers said that mountains in Europe which are only a few thousand metres tall are more difficult to climb than the 7,000m mountains in Nepal. Some diplomats based in Kathmandu were also against the idea so it could not be implemented.
The other issue that comes up regularly is about the local people of the Everest region. While there are people who are benefiting from tourism, there are others who are not involved in the tourism business. How are those people benefiting from tourism giving back to the people who are not?
I understand that the situation is not easy for them. Daily commodities have become expensive because of tourism. There are monks and nuns, along with the elderly, who do not have anything to do with tourism. There are also those people who do not live on popular tourist routes. I think it is the social responsibility of mountaineering operators to help them sustain. When we had a helicopter company, we would ferry essentials such as grains, tea and sugar for these people. But now, they have become more prosperous. Now we are thinking of new ways to help them.
In one of the regions, where we work, the local community chopped down a forest in one year. I asked them if they knew how much time it takes for a forest to grow. They said, "400-500 years." When I asked them why they'd cut the trees if they knew what went into growing the forest, they said that they cannot keep their families hungry to conserve the forest. Which is why we are starting an awareness campaign to make these people aware of the importance of trees and also the impact of global warming on the mountains.
To wrap up, do you have any vision of how the mountaineering business in Nepal should move forward?
I think the most important thing is to build a system. I would like to share an example. When I went to Europe to climb Mt Blanc, we saw that around 50,000 people come to the base of the mountain– something like our Namche– every year. But when we climbed the mountain, there were around 100 people ahead of us and another 150 behind us. I'd imagined that only around 16,000-17,000 people would climb the mountain every year, but my son told me that more than 21,000 people climb the mountain every year and it was not dirty. They have a strict monitoring mechanism in place. Sagarmatha is 4-5 times bigger than Mt Blanc, we can easily manage it with the right system.
What about the liaison officers? Are they not doing the monitoring?
We say that instead of deploying government officers as liaison officers, the government should deploy climbers to monitor activities on the mountain. The liaison officers cause problems only, even when they are not at base camp. When they do come to base camp–like the 4-5 of the 47 officers this year– they demand chicken and mutton every day and hot water to go the toilet in a place where boiling water is very difficult. There are officers who stay in Namche and play cards the whole day. If they lose, they make the operators pay. Some officers even don't care to leave Kathmandu. They make arrangements with the airlines to produce fake tickets and hotels in Namche to produce fake bills.