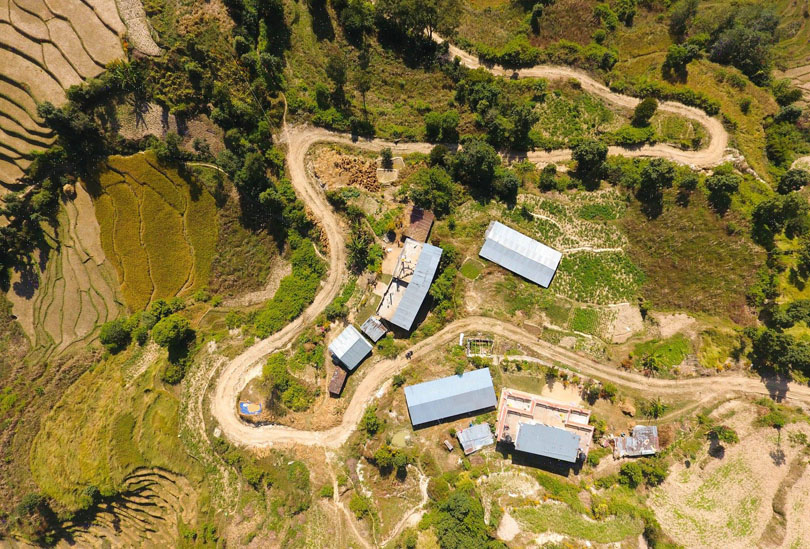 After the magnitude 7.6 earthquake rattled Nepal on April 25, 2015, security personnel and locals spent weeks in rescuing the injured. The rescue work could not gather pace because they did not have a birdseye view of far-flung areas.
Engineer Darpan Pudasaini, who was developing robots to meet various practical needs, was aware that drones could make the rescue works quicker. "I felt helpless because I did not have the equipment, nor the team to use my knowledge," he says.
However, the incident triggered a business idea in Pudasaini to establish DroNepal, one of the country's pioneering drone companies with a mission to promote the use of drones in development works, including post-disaster management.
Bid to correct flawed development
Pudasaini says his company was born out of Engineering Adda, a loose network of robotics he co-founded with classmate Milan Karki in 2013. Students of Pokhara University's Nepal Engineering College, Pudasaini and Karki had convinced some government and nongovernment agencies as well as UN bodies to use robots in their day-to-day functioning.
"While working for Engineering Adda, we developed a keen interest in drones as its use would not be restricted to a single field. Consequently, our team acquired knowledge and skills to build drones on our own," Pudasaini shares his early plan, "But, we soon realised that we could not survive on building these machines as its users are few in the country. Therefore, we changed our focus to its diverse use."
In the first two years of its life, DroNepal has concentrated its efforts on using drones for surveys for infrastructure development projects. Pudasaini claims many development projects of the country are flawed because surveys which guide the construction works are inaccurate.
"Our country's terrain is quite rough, and it hinders accurate surveys," he clarifies, "Inaccurate surveys lead to construction errors. We can correct such errors by using drones in engineering survey works."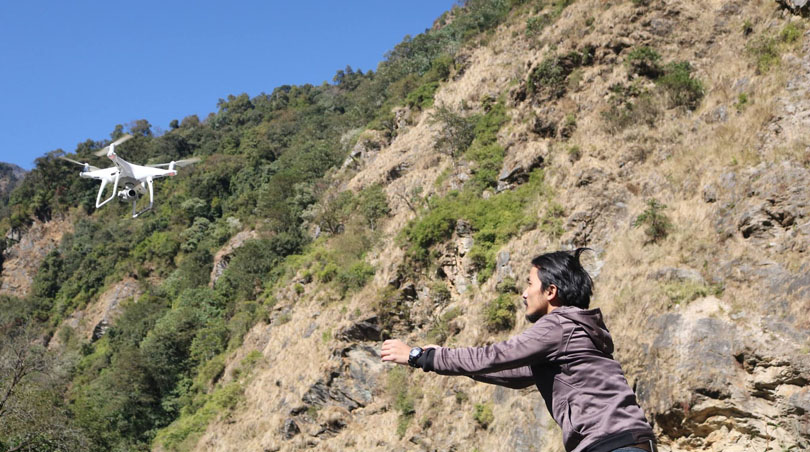 Initially, the company engaged itself in the survey of various hydropower projects. The company has so far completed eight hydro projects while two others are ongoing. It has signed contracts with three more hydro projects.
The second benefit of drone surveying, after accuracy, is speed, according to Pudasaini. "Engineers walk for surveys, but drones fly," he says, "It also helps projects control costs."
Motivating local governments to go high-tech
After the completing of local level elections across the country in 2017, the company has been pushing local governments to use drones in development planning and implementation.
Because local governments are at the forefront of development works, the company believes that their engagement in the use of modern technologies can bring a significant change in Nepal's development landscape.
Therefore, it has been offering voluntary service to various local agencies. "We approached Gokarneshwar Municipality in Kathmandu with an offer of doing the whole urban planning for free. Once they agreed, Biratnagar Metropolitan City in Morang district contacted us to work with them," a happy Pudasaini shares, "We are doing a small project in Waling of Syangja district as well."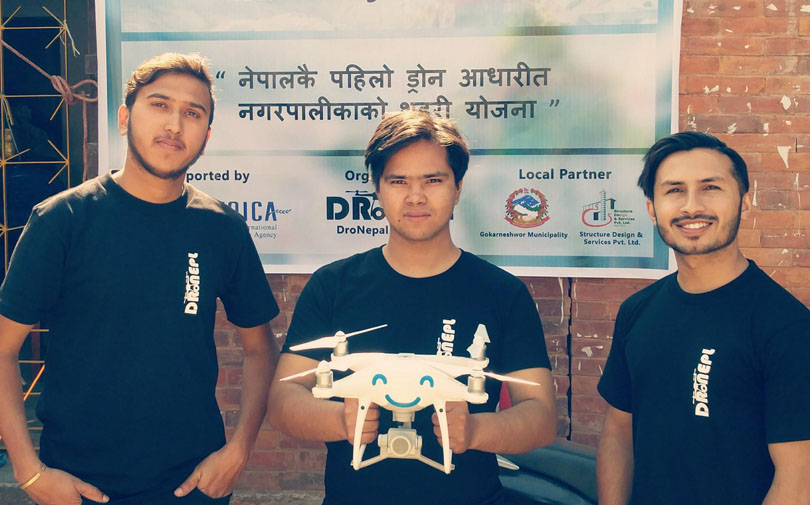 Though the service it has been offering at some places is voluntary now, it would be financially beneficial for the company in the long run as the company can charge its clients for its equipment and services later, hopes the team.
However, motivating government officials to adopt new technologies has been a big challenge today. "More often than not, they do not understand why drones are better than human engineers for surveying. It takes some weeks, even months, to get the idea endorsed."
Drone school on the cards
Another challenge the company has faced is human resource crunch. While government officials are not friendly with the technology, engineering workforce available in the market is also not much familiar in processing data collected by drones.
But, as the use of these machines is most likely to go up in the future, Nepal also needs more skilled human resources. Therefore, DroNepal is planning to establish a drone school in Kathmandu soon, which is expected to conduct training programmes in a bid to produce a variety of human resources.
"Our new project will establish a connection between students and industries," Pudasaini explains, "Primarily, it will provide technical training for manufacturing, maintenance and operation of drones. At the same time, it will spread awareness among stakeholders and public about advantages of using the drone technology in various sectors."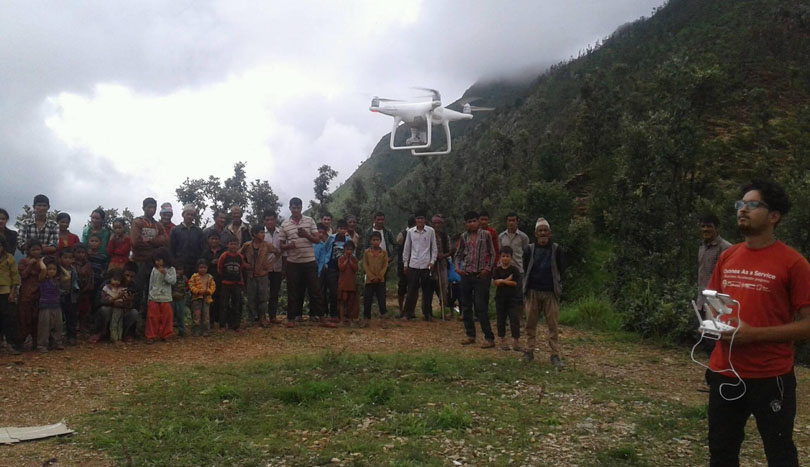 The entrepreneur claims that the school will kick off its operation within the next three months.
Ever-expanding business
The drone school is only one part of the projects the company is planning to launch soon.
"Our scope is wide. We are launching a partnership with the Department of Environment to use drones for the monitoring of air quality in Kathmandu," Pudasaini shares, "The Armed Police Force is exploring if it can use drones for patrolling and we are a consultant for the Force."
All the plans Pudasaini mentions suggest the company has an impressive business potential for the future.
"You don't need to wait for the future. The potential has already been proved," he says, "Four of us–I, Milan, Upendra Oli and Prabin Lamsal–launched the business two years ago by investing around Rs 400,000 and it returned in the very first year." Last year, the company topped an international drone competition to win software and hardware support worth USD 8,000 and it has become its valuable asset now.
Pudasaini hopes the business will boom in upcoming years.
"Till 2010, the one and only owner of drones in the world was the US Army. In a span of eight years, these machines have arrived at every nook and cranny across the world," he says, adding, "Further, Nepal is the best place to expand the industry. Thanks to its geographic variation, experiments conducted in Nepal can be applied to most parts of the world. Therefore, it can also attract foreign investors."
Photos: DroNepal