Recently, Sujan Babu Adhikari wrote in an office group chat of Shangrila Development Bank, "I will get my car. Those residing by the Kalanki-Baluwatar route, rest your cars for the day and hop into mine." The time and place of departure were also mentioned in the message.
His colleagues from Syuchatar, Ravi Bhawan and Kalimati all reacted with thumbs-up to his message saying they are okay with the plan; carpooling their way to work. So, Adhikari picked up his colleagues and with a full house, they all travelled to the bank's headquarters in Baluwatar. That day, in the office's parking lot, there were three fewer cars.
By now, the four employees have already started carpooling or travelling to the office together regularly. "Using one car costs a lot less fuel and lessens the traffic on the road," Adhikari says.
Not just them, it has been four months that the employees of Shangrila Bank have started sharing cars and motorcycles, without leaving their seats vacant, with some exceptions.
After the fuel prices started rising in the international market, all employees including the bank's chief executive officer (CEO) started carpooling. "Our parking lot is now more convenient for customers too," says Adhikari, who is also the bank's company secretary, adding other people can also adopt carpooling if they want to save fuel and contribute to making Kathmandu's traffic management less chaotic.
The idea born from necessity
With the outbreak of the Russia-Ukraine war, fuel prices skyrocketed in the world. According to the Nepal Oil Corporation, five million litres of diesel and two million litres of petrol, collectively worth Rs 1.22 billion, are consumed daily in Nepal.
While a country like Nepal, dependent on imported fuel, is being affected by the fuel consumption reduction debate, the employees of Shangrila Development Bank also started talking about reducing the use of petroleum-powered vehicles.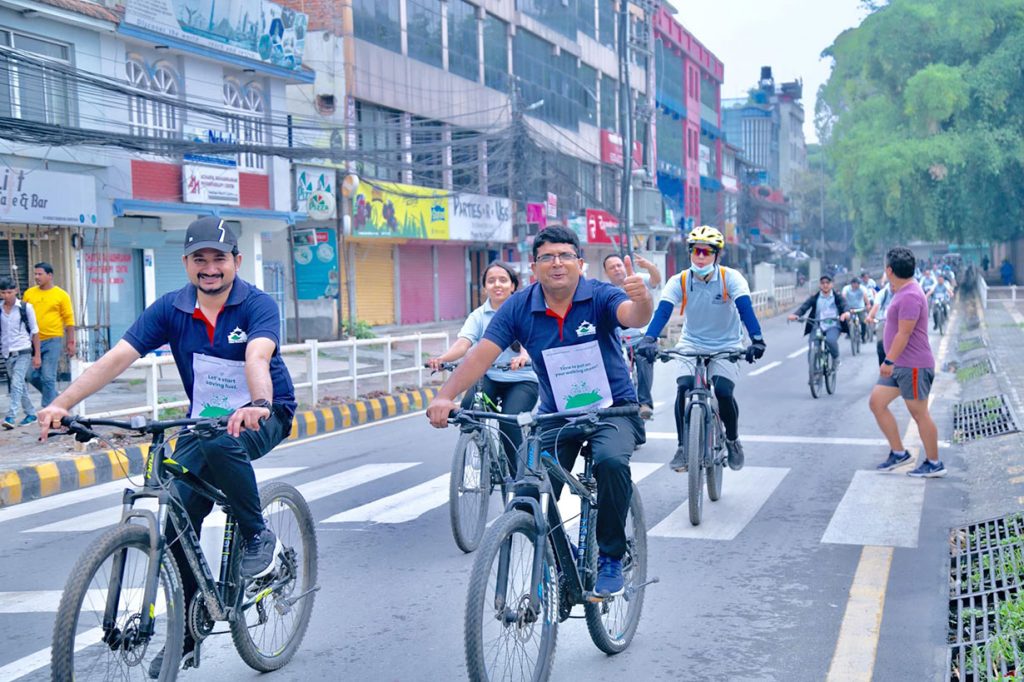 But, how? During a discussion, the employees spontaneously came up with the idea of ​​carpooling, bike pooling or ride-sharing, and using a bicycle. If possible and those who live nearby can also walk on foot. Recalling that discussion four months ago, Adhikari says the small effort to save the economy and the environment by reducing fuel consumption has now become a rule in the office.
The bank is also very proactive in the effort and at all 19 of its branches in the Kathmandu valley, it has been practising carpooling since last April.
Now, NMB Bank is also going to do the same, informs CEO Sunil KC. The bank might even implement a policy for the same.
'You ride alone, you ride with Hitler'
Carpooling was heavily practised in major US cities after World War II causing a severe supply crisis. It is also called car-sharing, ride-sharing or lift-sharing. At that time, to promote the idea, posters stating 'You Ride Alone, You Ride with Hitler' were hung everywhere.
Thereafter, the world's largest and busiest cities have been known to practise carpooling to reduce traffic jams and air pollution caused by fuels, epidemics and natural disasters.
A similar exercise was held in 2010 in Tehran, the capital of oil-producing Iran. Then, the population reached 8.45 million and the number of private cars reached three million. Due to the lack of road infrastructure development, the city had become chaotic with frequent traffic jams.
To control the jam, the government introduced a policy of reducing fuel consumption, but it was not successful. Even after increasing the price of fuel, consumption did not decrease.
Then, the government adopted a carpooling policy. A study found that a 30 per cent increase in carpooling saved 240 million litres of fuel annually.
Is the Nepal government doing anything?
Recently, at a press conference held by the Ministry of Commerce and Supplies to inform about the fuel price hike and tax, Secretary Ganesh Prasad Pandey was asked, "Sir, do you ride an electric vehicle or a petrol one?"
He laughed and said, "Where to buy an electric vehicle? The government has a policy of not buying new cars."
The journalist again asked, "Shouldn't the measures to reduce fuel consumption start from you?" The secretary replied, "We all have to do this together."
So far, no concrete efforts have been made to decrease fuel consumption. No ministry or body within the Singhadarbar premises has taken the initiatives such as carpooling to reduce fuel consumption.
"They fill the petrol with coupon (given to government officials) and get going. That's what happened," says a Commerce Ministry official, adding, "Many ministers and secretaries have up to three diesel and petrol vehicles."
The State Affairs and Good Governance Committee of the Parliament, responsible to make public bodies conscious and economical as well as directing them in times of fuel crisis, is inactive. The post of committee chairperson is vacant too.
Earlier, the government had decided to reduce fuel consumption. But, the Ministry of Industry, Commerce and Supplies has stated that no institutional responsibility has been identified in this regard. In other words, the government has not taken steps to reduce fuel consumption.
---
This story was translated from the original Nepali version and edited for clarity and length.