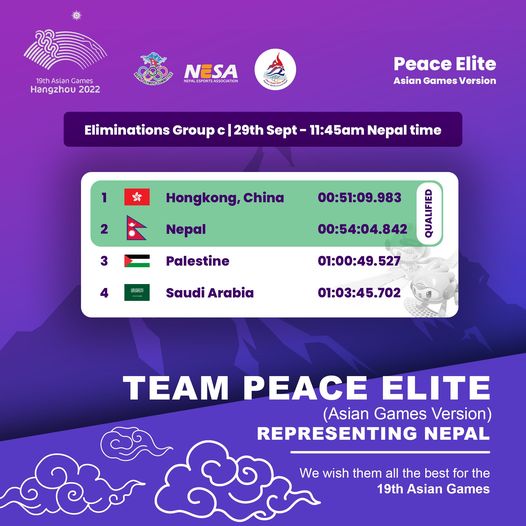 Hangzhou, September 29
Nepal has reached the semi-final of PUB-G in the ongoing 19th Asian Games in Hangzhou in China.
During the elimination round (quarterfinal) at the China Hangzhou eSports Center on Friday, Nepal secured their spot in the semi-finals by clinching second place in their group.
This competition features a unique format compared to standard gaming events, as four teams will compete in two groups during the semi-finals.
The Nepali team, comprised of Subin Kumar Prajapati, Dipesh Gurung, Sahas Bhandari, Samir Gurung, and Sangin Bhattarai, secured second place in Group C with a time of 54 minutes and 4.842 seconds on Friday. Hong Kong finished as group winners.
Nepal initially finished as the runner-up in the first round as well. However, their performance allowed them to advance to the quarterfinals as the best runners-up.
The other semi-finalists along with Nepal and Hong Kong are Thailand, South Korea, China, Chinese Taipei, Japan and Indonesia.
Now, these eight teams will be divided into two groups of four for the semi-finals. The top two teams from each group will advance to the final stage, where four teams will compete. The top three teams in the final stage will secure medals.