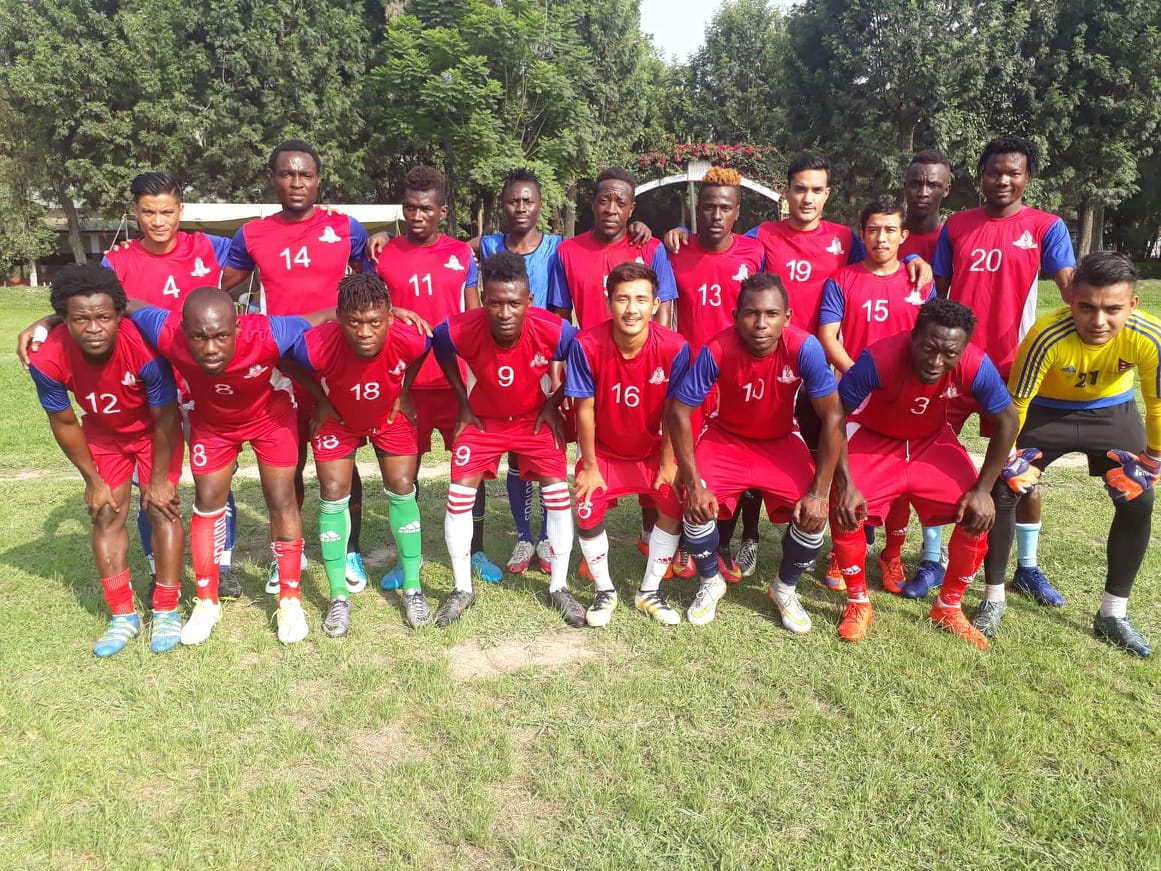 In 2012, Victor Amobi, 28, came to Nepal from Nigeria with 20 friends to see if they could play football in the Himalayan country. All of them had come to Nepal via an agent in Africa who had told them about the quality of football played here in Nepal.
Six years down the line, Amobi is currently playing for the Manang Marshyangdi Club in Kathmandu.
Amobi and his group were not the first foreigners to come play football in Nepal. The sudden rise of African football players started in 2005 after Boys Union Club acquired a football player from Africa.
After Nepali clubs saw how physically capable the Africans were, many of them started to acquire foreign players which gave them the edge against Nepalis–which is why by 2009, most teams had at least one African player.
However, for members of the general public, who see many Africans not only playing on the screen, but also walking on the streets around them, their presence is a little mystery. After all, why these youth come so far away to a 'poor' country like Nepal, just to play?
How they come
Most players come to Nepal through agents who have contact with clubs here. Same was the case with Victor when he came here. "Our agent in Nigeria helped us fix a friendly match with Jawalakhel Youth Club," says Amobi.
Since Nepali clubs were looking for African players, many coaches came to see the match. "I remember I was told that Three Star Club's manager Anjan KC was there and after a good performance I was picked to play for Three Star Club," adds Amobi.
But not all come that way as was reviled by a recent article on The Guardian on how players in Africa are duped to come to Nepal and play. Amobi says those who come that way are desperate to leave the country. "Most people I know come here for football and football alone and that one article ca not generalise all Africans in Nepal," he adds.
But a member of a football club who has been involved in Nepali football for two decades says many come here knowing that there is no league football, and those are the ones who create problems here. "Some aren't here for football, they are here just to escape their countries," adds an agent who does not want to be named.
Florent Larva Kone, 22, came in 2015 from Ivory Coast just after the season had ended. He did not come here through agents. After months of research and after talking to his friends who have been here, he decided to come. But it wasn't as easy for him like it was for Amobi because since his arrival the national league stopped happening.
He too had to go through a trial, which is watched by many football clubs. If they are good enough, the clubs hire them and offer them a work permit which helps them stay in the country legally.
An agent also shares that after struggling to make it in India, many Africans cross the border and come to Nepal in search of regular football.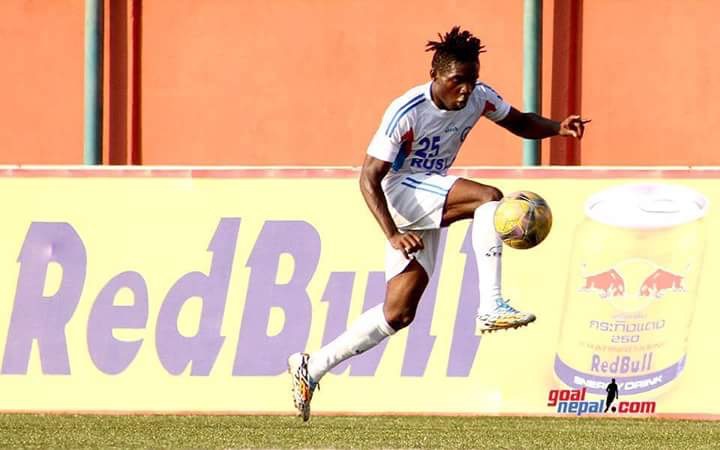 Why they come
"The players come here for one simple reason: to play football and get better," adds Sugan Tandukar, a football agent in Nepal. And they have been doing so since the early 2000s. Most African countries are in turmoil and that is why most players in search of regular football leave.
"Like most Nepalis, even these Africans try to go to Europe; but the living expense there is too high and the opportunity there is limited and that is why they come to Asia," continues Tandukar who says he became a football agent by accident while he was acting as a translator for an African player.
Kone came here because he could not go to Europe now and felt the type of football they play here would improve his game. But as he did not get to play league football here, he left for India. "I played I-League for a year, but the quality of football there made wonder if I would ever go to Europe playing like that," he adds.
Amobi says something similar. He too feels that the level and the quality of football in Nepal is better than that in India. "There is more money in India, no doubt; but the level is quite bad. Here the football is quite tactical, which helps you take your game to Europe," adds Amobi who played a year with Minerva Punjab FC.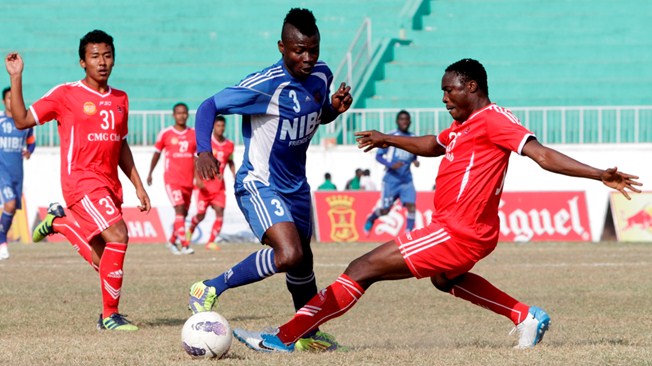 Their challenges
One of the main challenges that Kone faces in Nepal is communications. "It was tough in the beginning but having friends here helped," he says. "The game play is very different to what we are used to in Africa. There we play more physical and use the body more, here the guys are very fast and they play with their heads which for someone who's not played in such an environment can be a bit tricky too," he continues.
But for Amobi, the style of play was not an issue. "I play football with my mind; and yes it was a bit tough at the start, but I was at a good club which made me feel welcome," he says.
But the major challenge these players have faced is the lack of league football. "We have come here to play and we aren't getting to play as much," adds Kone who had to go to India for regular football.
There are local tournaments in every city, but it is not the same as playing in the league, add both the players. "The tournaments are all over Nepal; and for us, it's not easy travelling. Sometimes the clubs take us, but most of the times we have to go there alone," adds Kone who feels the league football would mean they would play all games in the same city while they train for the rest of the days.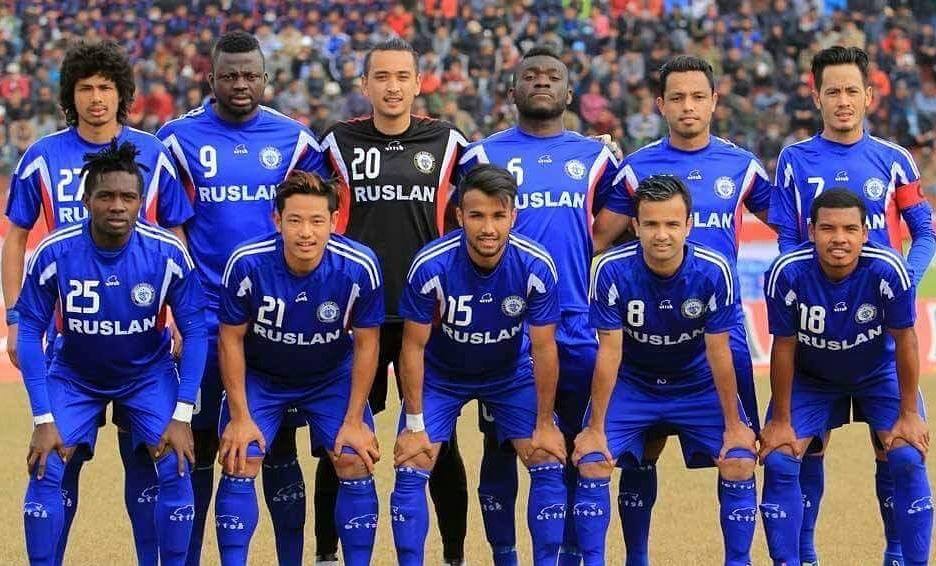 Opportunities and future
Like players abroad, the Africans have come here to learn and get better. "Footballers leave their countries to get better, that has been the case for years as it can been seen in Europe's big leagues where a lot of people come from all over the world and it's the same here," adds Nabin Chitrakar, former Vice President of Machhinrda FC.
He continues, "For example, Zikahi Leonce Dodoz. When he initially came, he was not very good as he was played as a defender, but gradually coaches used him differently and he's left Nepal as one of the best strikers and now is playing in I-League in India."
It was Dodoz who made Kone come to Nepal and he hopes he too can follow in the footsteps of his friend. "He told me you can learn a lot here and I've realised that," adds Kone. He continues, "I had lost my touch playing in India where they asked me to play a lot of long balls to runners; but here the coaches taught me to play with the midfield and take the ball forward."
And, the coaches are quite helpful, adds Amobi, "They not only tell us what to do, they also try to learn a lot from us because they respect the fact that we have come from a foreign land and want to learn from our experiences."
Like the coaches, local players learn from them too. "Previously, Nepali players were scared to play against Africans; but as they got accustomed to them and learned how to deal with the big players, they stared to get better and now they aren't afraid of playing against them," adds Tandukar, who feels Nepali players would get better if they went and played abroad.
With league football starting again after a hiatus of three years, there is a joyous mood around everyone who is involved in Nepali football. But that there will be no relegation is something that has not pleased Amobi, who feels the level of football might go down.
"For us, the teams who sign us up are the ones who're serious about winning the league and with no relegation, teams that aren't serious about winning the league might not want to sign up foreign players," adds Amobi, who says he does not want to play in Nepal if he gets a better offer abroad.
Players such as Kone and Amobi are just a few who have made it. But, others who are not so lucky are not so lucky are sent home by clubs. The absence of league football has hampered the development of not just Nepali players, but these foreign players too who have suffered a lot, but the warm Nepali hospitality is what has kept most of them going in these time of trouble.