Few trips in the world compare to cycling in the Annapurna region. The stunning drama of the region's landscape is only matched by the impossibly treacherous ride cycling trough it entails. A word of caution: this ride is only suitable for the most seasoned riders.
1.
The 14 day journey will start from Besisahar. Teeming with urbanisation, which may seem unwelcoming to the visitors, the town serves as the district headquarter of Lamjung. Luckily, you can choose to ride to Bulbule on the very day you arrive to Besisahar from Kathmandu. The 10 km stretch will ready you for more treacherous ride in the days to follow.
2.

A 21 km stretch from Bulbule to Jagat will be covered the following day. Or, you can ride directly to Dharapani which is 25 km away from Bulbule.
3.

The arrival of motor-able roads to this region has not deterred trekking enthusiasts. Once only accessible on foot the roads have, instead, given visitors other ways to explore this world-renowned region. Chame, the next stop, is a lung-busting 38 km ride away from Dharapani. Expect to slow down once in a while to give way to traffic, however thin it maybe.
4.

After a day of rest in Manang, the next stop will be Yak Kharka. At 4,400m Thorang Phedi will be the next stop. All caveats of high altitude applies here so proceed with caution.
5.

Muktinath will be the next stop in your journey. By now, on the tenth day, your body will have become accustomed to high altitude and the added physical activity.
6.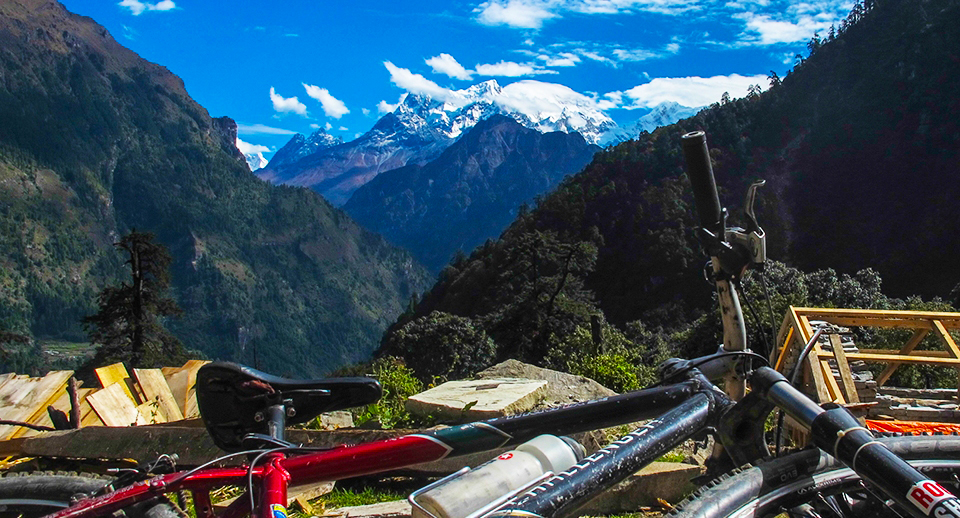 By the time you will reach Tatopani via Jomsom and Kalopani on the thirteenth day, you will have traversed nearly 200 km of stretch that passes through waterfalls, steep hills, quaint settlements and lonely landscapes.
You will reach Pokhara from Tatopani via Beni the next day.