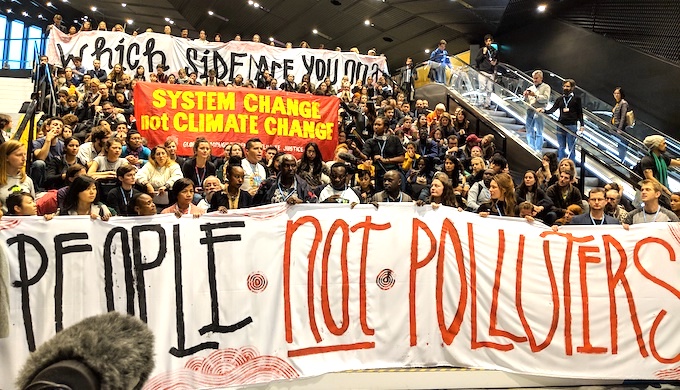 More than 11,000 scientists from 153 countries have declared a climate emergency that could bring "untold suffering" if urgent action is not taken to conserve the earth's biosphere. "We declare…clearly and unequivocally that planet Earth is facing a climate emergency," they said in a paper published in Bioscience Magazine on Tuesday.
Humanity needs to act swiftly "to sustain life on planet Earth, our only home," the alliance of scientists, led by William Ripple and Christopher Wolf of Oregon State University, said in the paper titled World Scientists' Warning of a Climate Emergency. "Despite 40 years of global climate negotiations, with few exceptions, we have generally conducted business as usual and have largely failed to address this predicament."
"The climate crisis has arrived and is accelerating faster than most scientists expected. It is more severe than anticipated, threatening natural ecosystems and the fate of humanity," the statement said. "Mitigating and adapting to climate change while honouring the diversity of humans entails major transformations in the ways our global society functions and interacts with natural ecosystems."
The declaration comes 40 years after the first world climate conference in Geneva in 1979, when scientists from 50 countries agreed that alarming trends of climate change made it urgently necessary to act. "Yet greenhouse gas emissions are still rapidly rising, with increasingly damaging effects on the Earth's climate," said the statement on behalf of the Alliance of World Scientists. "An immense increase of scale in endeavours to conserve our biosphere is needed to avoid untold suffering due to the climate crisis."
Dire backdrop
The new warning comes a day after the United States under the Donald Trump administration initiated formal proceedings to withdraw from the 2015 Paris agreement, where nations pledged to restrict average global temperature rise since pre-industrial days to 2 degrees Celsius to avoid the worst impacts of climate change. Since the signing of the pact, most rich nations have shown reluctance to fund mitigation and adaptation efforts of poor countries. See: No money means no teeth in Paris agreement
Almost 75% of the 184 climate pledges made under the Paris agreement are insufficient to slow down climate change, and the world's largest emitters will continue to increase emissions, another report — The Truth Behind the Climate Pledges — published by the Universal Ecological Fund said on Tuesday. "An environmental and economic disaster from human-induced climate change is on the horizon," said the report, which examines in great detail the 184 voluntary pledges under the Paris pact. Almost 70% of the pledges rely on funding from wealthy nations for their implementation, it pointed out.
"The comprehensive examination found that with few exceptions, the pledges of rich, middle income and poor nations are insufficient to address climate change," Robert Watson, former chair of the Intergovernmental Panel on Climate Change and co-author of the report, said in a statement. "Simply, the pledges are far too little, too late."
Unheeded warnings
This is not the first time that scientists from across the world have jointly urged action on climate change. In November 2017, more than 15,000 scientists had signed a warning published in Bioscience magazine. "To prevent widespread misery and catastrophic biodiversity loss, humanity must practise a more environmentally sustainable alternative to business as usual," the statement had then said. "Humanity has failed to make sufficient progress in generally solving these foreseen environmental challenges, and alarmingly, most of them are getting far worse."
The 2017 warning was issued 25 years after some 1,700 scientists, including a majority of living Nobel laureates, said in 1992 that human beings and the natural world are on a "collision course". "A great change in the stewardship of the earth and the life on it is required, if vast human misery is to be avoided and our global home on this planet is not to be irretrievably mutilated," it had then said.
In the declaration of November 5, scientists have suggested changes in six broad categories. These include:
* Reduce use of fossil fuels and replace them with low-carbon renewables and other cleaner sources of energy
* Stabilise and reduce population growth by using ethical approaches
* Stop destruction of habitat and biodiversity and protect and restore the world's ecosystems
* Reduce food waste and eat a mostly plant-based diet, which can improve human health and lower emissions
* Promote a carbon-free economy and prioritise basic human needs rather than unsustainable consumption
* Reduce emissions of short-lived climate pollutants, including methane, black carbon and hydrofluorocarbons
"Scientists have a moral obligation to clearly warn humanity of any catastrophic threat," the Biosciences paper said. "Transformative change, with social and economic justice for all, promises far greater human well-being than does business as usual."
---
This article was first posted on Indian Climate Dialogue.
---
Published on November 8th, Friday, 2019 10:49 AM
---
Download Onlinekhabar App. Android click here & IOS click here . Keep in touch with us on Facebook, Twitter & YouTube.