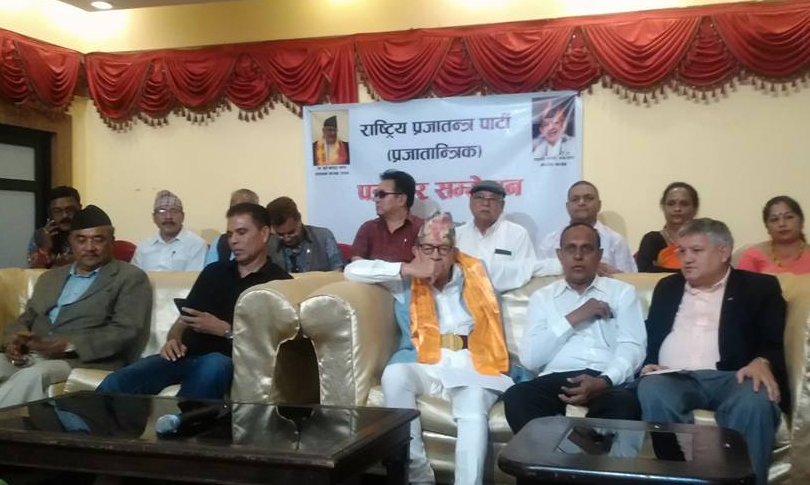 Kathmandu, August 10
The newly formed Rastriya Prajatantra Party-Democratic led by Pashupati Shamsher Rana is unlikely to get recognised by the Election Commission after it has been found that Rana failed to submit signatures of at least  40 per cent members of Central Working Committee of Rastriya Prajatantra Party that he wanted to split.
The law about political parties says if at least 40 per cent members of the central committee as well as 40 per cent lawmakers of the parliamentary party apply for registration of a new party, the new force can be recognised.
On Sunday, Rana had submitted the signature of 64 persons to the Commission. Of them, 16 were lawmakers. The unified RPP had 37 lawmakers and Rana needed the support of at least 15 of them. It means Rana fulfilled the requirement in the parliamentary party.
However, the number of CWC members on his side was not sufficient to break the party. The RPP has 165 CWC members. The Commission has the record of 156 members and nine were appointed later.
That was why Rana needed the support of 62 CWC members if the Commission considered 156 as the total strength. But, Rana has submitted signatures of only 56 CWC members as eight lawmakers who have signed in the application were not in the RPP CWC.
Rana has already noticed the problem and has been seeking other CWC members' support. However, RPP Chairman Kamal Thapa has already urged the Election Commission not to give validity to the signatures collected after the submission of application.
We have 75 CWC members: Pro-Rana leader
Meanwhile, a leader close to Rana says his side has the support from 75 members of the Central Working Committee. He also claimed 66, not 56, CWC members had submitted their signatures to the Commission on Sunday.
He also claimed the Commission accepted signatures submitted later than Sunday. For example, actress Rekha Thapa, who was also a CWC member, submitted her signature on Tuesday and the Commission already accepted it.