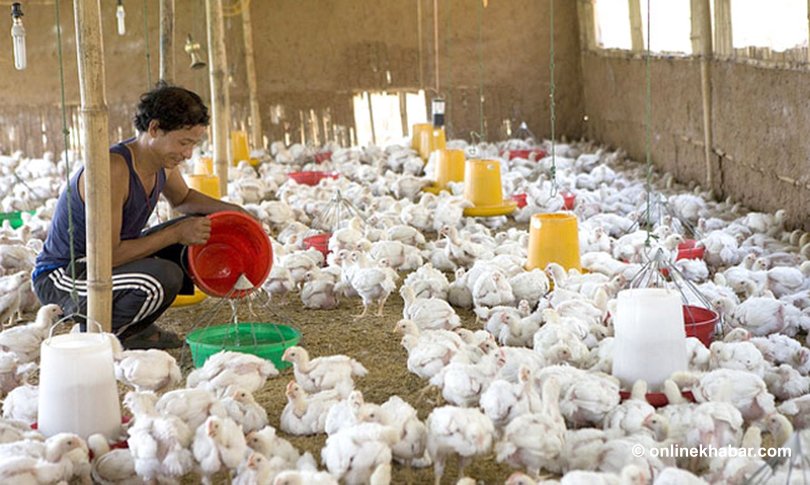 Chitwan, October 10
Poultry farmers in Chitwan are grappling with significant challenges, leading many small business owners in this sector to exit. Investors are struggling to meet their loan obligations to banks and financial institutions, largely due to the ongoing economic crisis.
The Chairman of the Chitwan Association of Industries, Trilochan Kandel, pointed out a sharp decline in the number of poultry farmers.
"The count of layer poultry farms has dwindled from 8,000 to less than 4,000. Numerous poultry farmers owners have been forced out, and those remaining are grappling to stay afloat,'" says Kandel.
Binod Pokharel, a major investor in this industry, has invested billions towards its development. He mentioned that he is actively engaged in nationwide marketing efforts for eggs, aiming to bolster the collective interests of the business community involved in this sector.
Pokharel is currently raising up to 400,000 layer chicks in his Daunne Corporate located at Binayi Triveni in the Nawalparasi district.
He pointed out that poultry farmers have been enduring losses for years, mainly because the income generated from egg production is constrained for the producers.
Businesspersons assert that poultry farmers have borne the brunt of unfriendly government policies towards this industry, which has created approximately 500,000 job opportunities.
Furthermore, the count of hatcheries has plummeted from 120 to 348, with existing ones operating at reduced capacity. Tikaram Pokharel, the Vice-Chairman of the Nepal Poultry Federation, warned that without government intervention, this industry could face a potential collapse.
The poultry industry in the country has reportedly attracted over Rs 200 billion in investments. Federation Chairman Gun Chandra Bista stressed the urgency for the government to take proactive measures to safeguard this business.