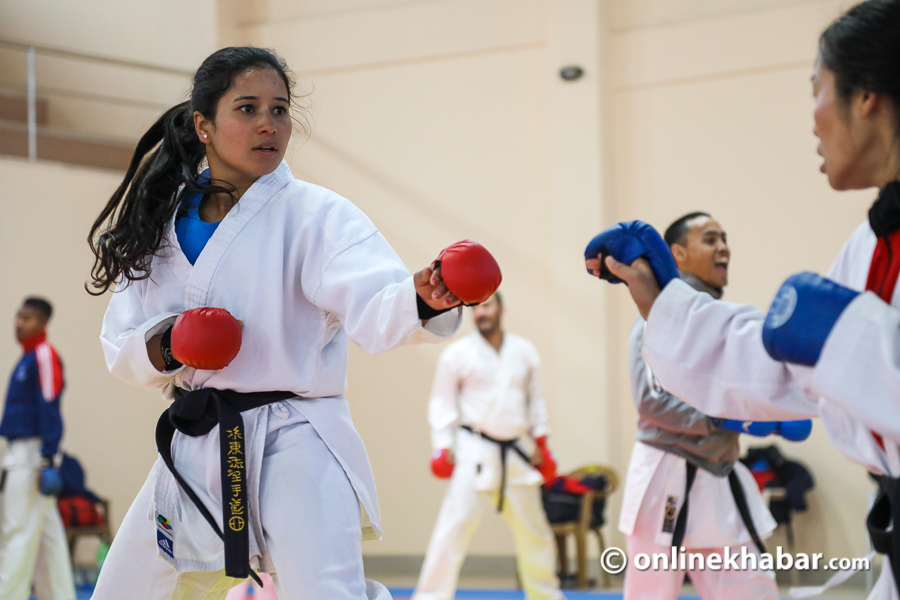 When a 12-year-old Anu Adhikari enrolled herself at a dojo to learn karate she had only one aim: to lose weight. Twelve years on, Adhikari is the national karate champion–she's been at the top of her game for the last eight years. She's even won a silver at the South Asian Games.
But it hasn't been an easy ride. Her family members, even though they support her now, were never happy about her perusing sports as a career. "My father wanted me to become a staff nurse because he didn't want me to waste time pursuing something which didn't have any future," shares Adhikari.
She shares that it was quite hard initially as she had to balance studies and karate, but is thankful to her brother who always helped her when it came to school work. "The dojo was quite far from home. I had to walk for 45 minutes to get there and my parents saw that was a waste of time. But as my elder brother and I were in the same class, my studies didn't suffer as much," she adds.
That she didn't come from a sporting family didn't help her cause, but she didn't let that affect her in any way and with the help of her teachers at the dojo started to excel in karate. "The teachers always gave us hope that we could do well. They didn't even take any fees from me and gave me a karate dress for free as well."
After doing well in junior karate competitions, Adhikari caught the eyes on national level selectors when she participated in the National Games in 2009. At the age of 15, she was selected in the national team which was due to participate in the 2010 South Asian Games in Bangladesh.
In her debut international tournament, Adhikari narrowly missed out on a gold medal as she lost in the final to a Pakistani. "I had the game and a gold medal won, but my naivety cost me the match in the final minute of the game."
Disheartened that she could win a gold medal, Adhikari returned home to a glorious reception. It was something she had never imagined. "I didn't value the medal until I arrived in Nepal where I, along with others who had won a medal, got a hero's welcome. It was quite surreal. The junior games were behind me and now I was competing with the best in Asia and South Asia," she adds.
The 2010 SAG also gave her inspiration to work harder and stay at the top level. She represented Nepal in two more international tournaments: the 2014 and the 2018 Asian Games. However, she couldn't to win Nepal a medal in either of the two tournaments.
"Our preparation for these international tournaments isn't enough. The camps that we are sent to last only for a few weeks which aren't enough," she says.
She further adds that the techniques and skills they learn in the camps quickly disappear after the tournaments as the level of competition in the country isn't as good as those away from home.
To ensure she gets the best training, she has been spending her own money to participate in karate tournaments across the world.
She shares that she participates in various series which help her gain ranking which will, in turn, help her get selected for the  2020 Olympics, which will include karate for the first time.
"I recently got to play with the 5th best player in the world. I got beaten but the match could have gone either way. The experiences I gather by participating in these tournaments is invaluable."
Her goal, for now, is to win a gold medal for Nepal in the forthcoming South Asian Games which will be hosted in Nepal later in the year. "
It'll be fitting if I win a gold medal in my own country make everyone proud. It's something I have dreamt of since 2010 and I want that dream to come true."
She continues that there is even a chance of her retiring if she wins the gold medal. "Like everyone I also want to bow out on a high–a reason why I am working my socks off for this tournament."
Adhikari adds that even though she will not participate in tournaments after her retirement she will still be involved in the game in one way or another. "This for me is like a drug. I cannot stop doing what I do which is why I plan to train young kids and make them ready for the future. Even now I teach kids in two different schools."
For Adhikari, this isn't just a sport. It has given her fame and respect. It has taught her discipline and developed her as a person which is why even though she had her struggles in the start she has no regrets in continuing a sport that she loves.
---
Published on January 13th, Sunday, 2019 12:35 PM
---
Download Onlinekhabar App. Android click here & IOS click here . Keep in touch with us on Facebook, Twitter & YouTube.