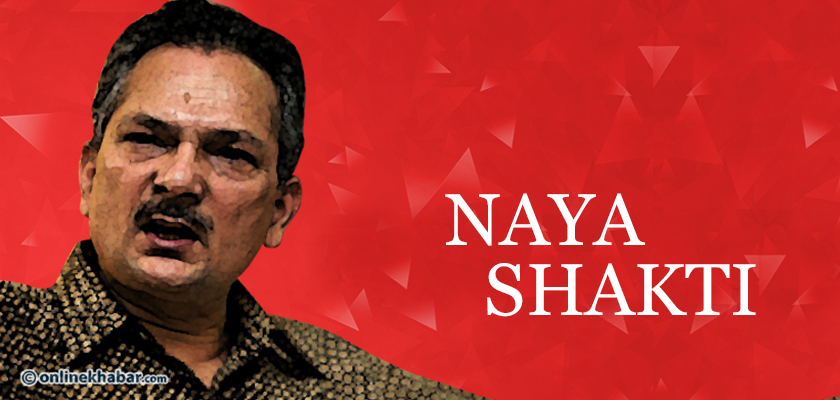 Former Prime Minister Baburam Bhattarai quit UCPN(Maoist) party after the new constitution was promulgated in September 2015. He announced that was going to form a new political party with a new vision. He named the movement to start the party as 'Naya Shakti'. The movement is preparing to formally launch its political party next month. Onlinekhabar asked Naya Shakti's campaigner Ganga Shrestha, why existing political parties in Nepal could not become the new force.
How is it 'Naya Shakti' new?
All humans pass through three stages in life. We are born, we reach our youth, then comes old age. In the same vein, a state also passes through three stages. First, it is unified and consolidated, then there is a struggle for political rights, and the stage is set for prosperity.
In the case of Nepal, Prithvi Narayan Shah unified the state, the people, through violent and non-violent means acquired bare-minimum political rights after the promulgation of the constitution. Now it is time for us to work towards economic development.
But the main hindrance to this is that political parties in Nepal were born to carry out political struggles, their structure and composition reflects the same. We are past the age when we would have to struggle again for our political rights. This renders the 'old' political parties obsolete.
That is where the Naya Shakti comes in.
Why Nepali Congress is not the Naya Shakti?
Times have changed a lot since NC was formed. But its policies and practices have not changed with the times. Although the party has stood in favour of BP Koirala's Democtratic Socialism, it has embraced open market capitalism, which has been proven to have failed.
Why is UML not the Naya Shakti?
Although UML calls itself a communist party, it is not a communist party. The name is there only as a trademark. It has also embraced open market capitalism. The main problem with UML is that it is not ideologically clear as to where it stands. The leaders do not practice what they preach.
Both UML and the Congress are no different when it comes to governance. They do not have a clean record.
And the Maoists?
The Maoist party played an important role in bringing in historical changes in Nepal. But the party is now at a cross roads. It has not been able to let go of orthodox Marxism, nor has it been able to come up with path-breaking ideas for change in Nepal. Although ideologically, the Maoist party is stronger than the UML and Congress, it is at the same page on the issue of governance.
Madhesh-centric parties?
The main challenge facing the Madhesh-based parties is that they have yet to develop as political parties. They have invested lot of time in fighting for their community, but they do not have any political vision or programmes to show. It was only natural that regional parties sprang up after Nepal became a federal state, it was also necessary.