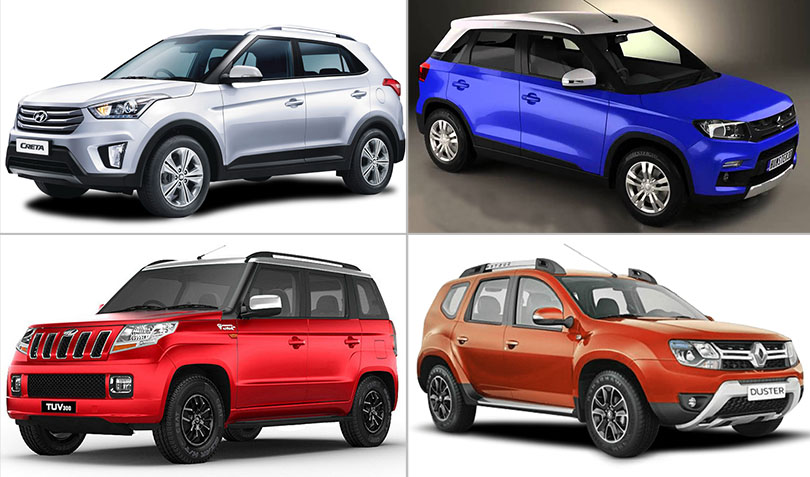 (Clockwise) Mahindra TUV300, Hyundai Creta, Maruti Suzuki Vitara Brezza and Renault Duster.
The popularity of compact SUVs will increase this year with several brands launching different models under the category.
In the light of the degrading conditions of the road network, a substantial number of Nepali auto buyers are choosing compact SUVs over sedans and hatchbacks. Compact SUVs have a higher ground clearance and are suitable for both on road and off road driving. They combine luxurious features with greater mileage in a body which is able to house passengers along with their cargos.
At NADA 2016, OnlineKhabar spotted six such compact SUVs.
The most popular amongst the lot is perhaps, the Hyundai Creta. A total of 1,300 units of the model were sold last year, says Laxmi Intercontinental, the authorised dealer of Hyundai vehicles in Nepal. This makes Creta, the most sought after compact SUV in the local market. The model packs a 1400/1600 cc engine with a high ground clearance of 190mm, making it suitable for the local roads strewn with potholes and speed breakers. Sold at the price of Rs 5 million (approximately), the acceptance of Creta – despite the earthquake and the embargo last year – has assured Laxmi Intercontinental of the popularity of the compact SUV segment in the local market.
Read also: NADA 2016: 12 new cars to look out for during Nepal's premier auto show
While Hyundai may have had a lead with Creta, the segment will soon be crowded with new entrants to the market. French automobile manufacturer Renault recently introduced their own model under the segment. Along with several other already available models, Renault Duster, which was introduced at NADA earlier this week, will give prospective buyers a new option to choose from.
Distributed by Advance Automobiles, Duster will be sold in both diesel and petrol variants and will have premium features like a gunmetal finish, alloy wheels and luxurious interiors among other. Starting at a price of Rs 3,533,000, Duster will provide a higher ground clearance of 210mm.
Also launched recently were models like Maruti Suzuki Vitara Brezza and Mahindra TUV 300. The Vitara Brezza, which is Maruti Suzuki's first compact SUV is available in seven variants. All seven variants are only available with a diesel engine and are priced from Rs 3,599,000 to Rs 4,440,000. A total of 300 units have been booked in the short time after Vitara Brezza's recent launch, claims Arun Shakya, senior manager of Suzuki Motors Corp.

Mahindra TUV 300, on the other hand was launched three months ago by Agni Incorporated. "We have sold 42 units since the launch," says Suraj Rajbanshi, assistant marketing manager of the company. Available in a 1500cc model, the seven-seater compact SUV is priced at Rs 3,695,000 to Rs 4,595,000.
With new entrants like Duster, TUV 300 and Vitara Brezza, competition seems to heating up especially for manufacturers like Ford and Kia, already selling compact SUVs in the local market.
Read also: Industries find going tough, shifting focus on automobiles sector
Launched in 2014 by Universal Motocorp, Kia Soul has been popular with buyers for its relatively low need for maintenance. With a ground clearance of 172mm and total fuel tank capacity of 55 litres, the model has been especially popular for its high mileage, says CEO of Universal Motocorp, Ram Sharan Shrestha.
The petrol variant of Kia Soul is priced at Rs 5,595,000 while the diesel variant sells for Rs 5,995,000.
Another model already made available to Nepali buyers is Ford EcoSport, which was launched in 2013. A total of 3000 units of the model have been sold till now, according to sales manager of Go Ford, Niraj Regmi.
The nine different variants of Ford EcoSport sells for Rs 3,192,000 to 4,890,000.