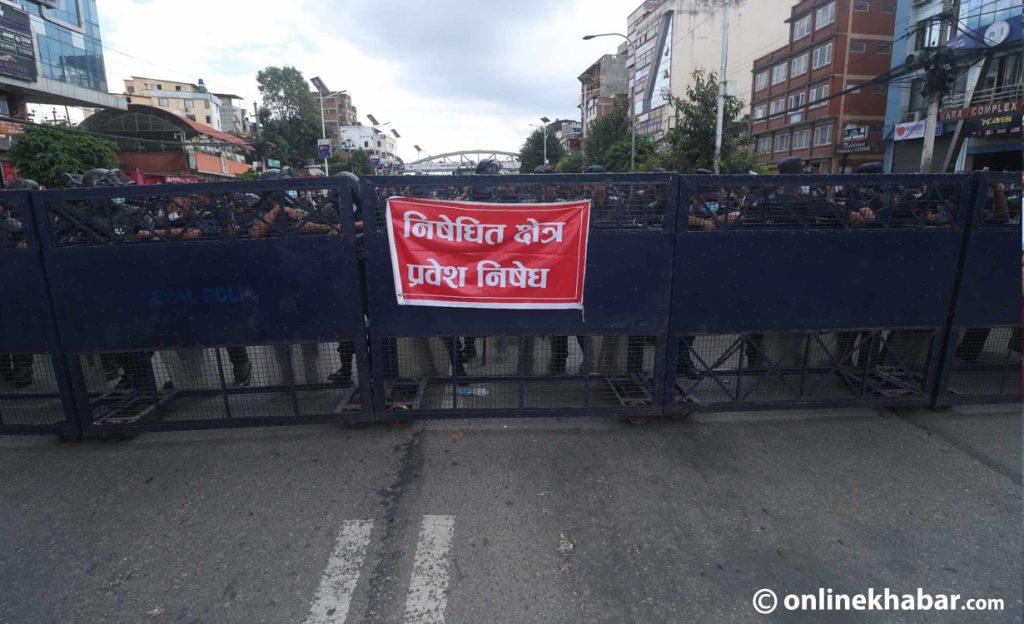 Kathmandu, November 20
The Kathmandu District Administration Office has declared the Maitighar and Baneshwor area as a no-protest zone for the next 30 days.
Chief District Officer Jitendra Basnet has said this decision will be in place for up to 30 days.
Following the announcement of the restricted area, gatherings exceeding five people are strictly prohibited in Maitighar Mandala, Bujulibazar, Babarmahal and Pamodaya Mode.
This includes organising programmes such as protests, demonstrations, sit-ins, hunger strikes, meetings, etc.
According to CDO Basnet, the decision to declare prohibited areas is in accordance with sub-section (3A) of section 6 of the Local Administration Act, 1971. This provision empowers authorities to restrict gatherings to a maximum of five people in a specified area and time if there is a risk of riot or disturbance, or if there is credible reason to believe that such measures are necessary to prevent disorderly conduct.
The National Youth Federation Nepal, the youth wing of the UML, has declared plans to stage a protest on Thursday. On the same day, controversial businessperson Durga Prasai has also announced a protest programme.
This had the DAO and security agencies on edge.
However, the DAO has contacted both parties, informing them that it will now allow them to protest in Maitighar Mandala. Instead, they have been instructed to conduct the programme at an alternative location.
"We have clearly told them to not organise such programmes on the same date in the same place. We have asked them to do it in separate places," said Basnet.
The Federation has labelled its programme as a protest against inflation, corruption, caste disparities, and any form of anarchy. On the other hand, Prasai has termed it a civil liberation movement, characterising the protest as an effort to bring about systemic change.