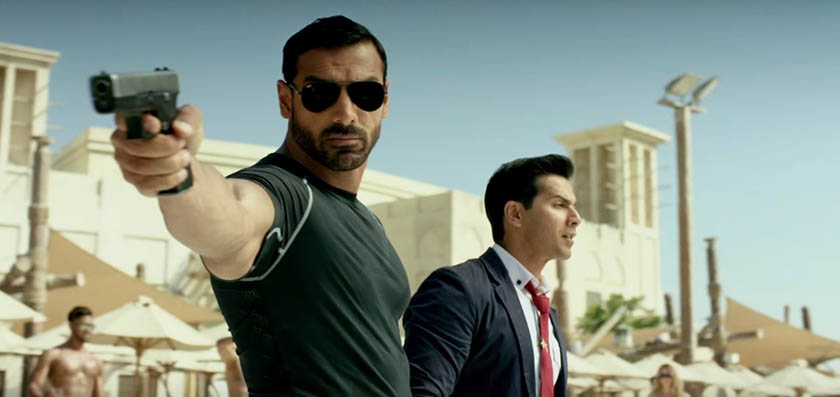 Eros International
If there is one scene in Dishoom that represents the entire movie, it has got to be the one in which John Abraham, Varun Dhawan and Nargis Fakhri are brought together by an ongoing investigation.
After a top cricketer is kidnapped somewhere in the Middle East, India's Ministry of External Affairs sends a steely officer from the Secret Task Force (Abraham) to hunt him down.
The six-foot sulker has just broken a stereo blasting Honey Singh with bare hands just because he means business, while a young woman (Fakhri) dripping wet from a recent dip in her pool is sending all sorts of chills to a rookie cop (Dhawan).
She stands like a playful nymphet that she is while the officer shoots questions at her. But only his lips move. His arms (and also his face) seems to have been locked perpetually to his hulking torso which seems to have a life of its own, making it impossible to voluntarily control his muscles. All the while, the rookie cop has done every bit of comic relief 'actorly' possible.
If you find this unyielding dynamic amusing, then Dishoom will probably work for you. And yeah, there are also guns, explosions, several cameos and a sequence with landmines which will shine new light on the phrase 'break your balls.'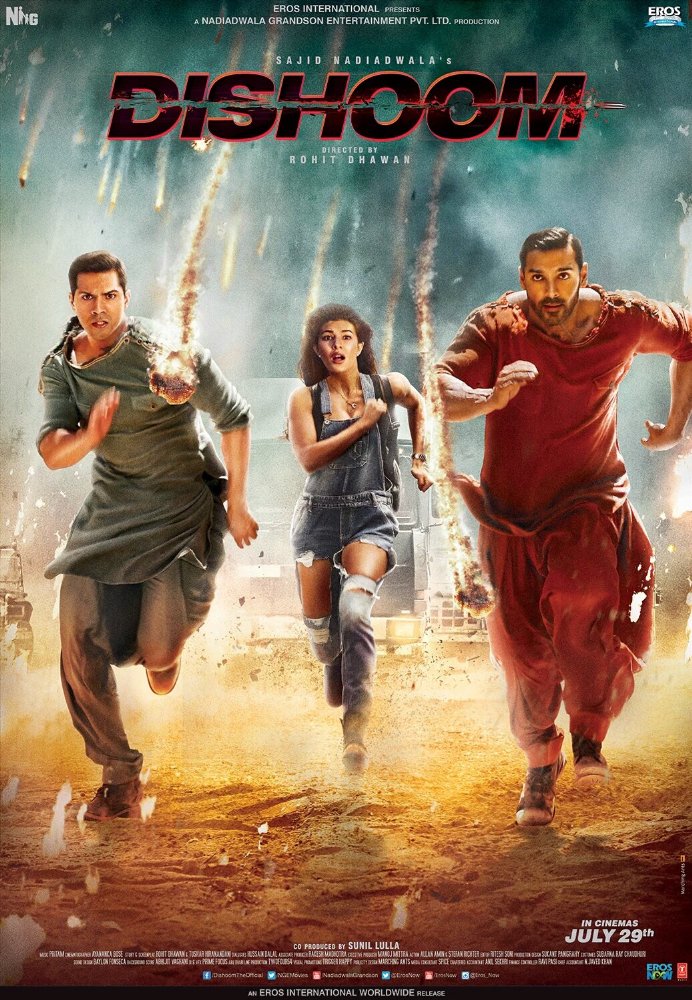 … it is hard to say whether all the high-handed nationalism in Dishoom was purely coincidental or premeditated…
If cinema is representative of the times we live in, ten years from now, supporters of the Modi government will probably look back at Dishoom and see a Bollywood film which finally asserted India's position among the top dogs. Those critical of the government will probably regard the movie as an exercise in machination of the same.
As for us now here in 2016, it is hard to say whether all the high-handed nationalism in Dishoom, which boasts an External Affairs Minister modeled after Sushma Swaraj, is purely coincidental or premeditated so that the movie can be granted a tax-free status, at the least.
It is one thing that the protagonists are a metaphor for religious tolerance (one is a Hindu and the other is Muslim, even their collective initial reads J&K) but how acceptable is it when an Indian officer points a gun at a bona fide police officer and then declares that "the rules does not apply" to him.
Everything else in the movie is also probably analogous to the way in which India is working to bring down the enemy, which is of course Pakistan.
What is the role of a woman in this trite mechanism? You may say.
This should not really be a question after you've seen a frame which borrows Jacqueline Fernandez's legs as a centrepiece.
But at least in Dishoom, we have the hard working MEA to shut up the feminists.
***
Also read
'Kabali' movie review: The Indian Dream