Looking at the Kanti Highway, which would usually be obstructed by landslides, makes Tekar Nath Timilsina from Bhattedanda in Lalitpur happy. A decade ago, travelling there during the pre and post-monsoon was impossible. But 10 years on, things have changed and that has made people like Timilsina happy.
"After the area got local representatives, things have become easier," said Timilsina before casting his vote for the new local government on Friday. "Yes, we didn't see development on a larger scale, but the village has changed. People have been able to enjoy various services offered by the state."
During the 2017 local elections, candidates, stating they had rights similar to those sitting in Singhadurbar, the headquarters of the federal government, went asking for votes in Bhattedanda and other parts of the country. And, they did fulfil some of their promises as they built health posts and schools in villages. But, the people of Bhattedanda, which is now a part of the Bagmati rural municipality, want to get more services.
"What we want now is to be able to make citizenship certificates and transfer land registration here itself. Even though the ward chair has made things easy, we still need to go to Patan to get things done," added Timilsina. "When will the officials in Bhattedanda get the right to issue these government documents?"
Remoteness within Kathmandu
To see what people thought about the elections, we left Kathmandu early on Friday morning and reached Bhattedanda. On the way to Bhattedanda, we stopped at Tinpane Bhanjyang. There, we met Indra Bhadur Moktan, a shop owner. He was in quite a rush as he wanted to go cast his vote.
"If they don't let me take the bike, I'll have to walk for an hour to get to the polling station. That is why I'm in a rush," Moktan said as he rushed to finish work on time.
At Moktan's shop were Prem Bahadur Nyasu and Sanu Ghimire drinking tea. The couple lived in Chapagaun, but since their voting cards were not issued from there, they were travelling to their respective villages. They had decided that Nyasu would cast his vote first and then take his wife to her polling station. Unlike the core Kathmandu, the police there had not stopped people from commuting in their vehicles, which had made things easier for the couple.
The Kanti Highway is over 60 years old, but it was blacktopped only two years ago. Despite that, parts of the highway were obstructed due to landslide debris. In a narrow section, we saw a bus stuck. To help the bus, a truck used to transport milk had come for help and made way for the bus.
The bus was taking people to villages so that they could cast their votes. One of them was 93-year-old Bhawani Shankar Timilsina and his son Narayan Prasad Timilsina. The father and son, who now live in Chapagaun, recall how difficult life was in the village.
"Everything we own is in Bhattedanda, but we live in Chapagaun," said Narayan Prasad. "We are registered in Bhattedanda that is why we're going there to vote."
Slow progress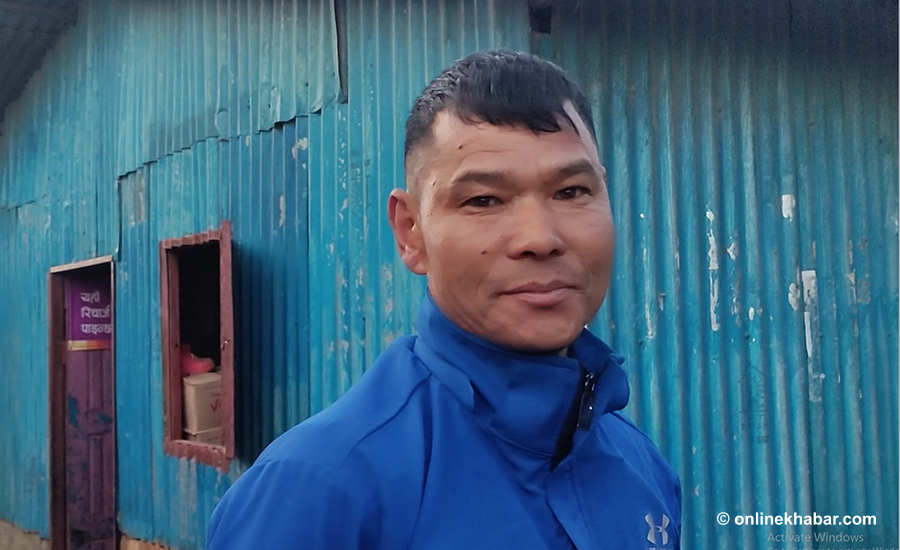 Narayan Prasad recalls walking to Tikabhairav with a milk container in hand in the mid-1990s. He feels that people who complain about life in Bhattedanda have not seen life as he has.
A lot has changed since then. There is now a road that joins Bhattedanda to Kathmandu valley. The place has a school and a health centre.
"We have roads, electricity and drinking water. Having these has helped the village a lot," he said. "This is why I go and vote."
On the way, we also saw a team of Nepali Army personnel. They were armed. When we tried taking pictures, they told us we were not allowed to and walked on.
We reached Bhattedanda's polling station at 6 am. Before us, temporary police had already reached the polling station and set it up. Next to the polling station was the rural municipality's new building. And pointing to the building, Ganga Bahadur Thapa, 73, told us how fortunate the new representatives are going to be.
"Everything will be ready for them to come and sit in the new office building," he said.
Thapa has a shop in Bhattedanda. In the 2015 earthquake, it collapsed, but Thapa worked hard to build it again.
"Before the earthquake, we didn't see cars. Things are a lot better now. We have drinking water taps in almost all houses. This is a great start," he adds.
Next to him is 77-year-old Hari Bahadur Magar who added he has seen gradual development.
"I think we are no longer remote. The road has helped us a lot," said Magar.
Nostalgia vs hope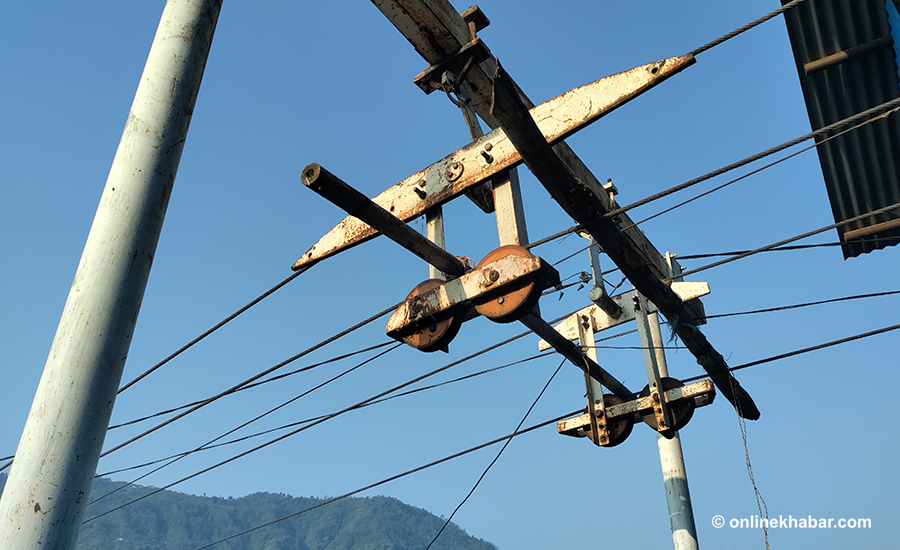 But, people still have to go to Patan if they want any government work. Tekarnath Timilsina added that for most work, the people still have to go to government officers like Land Revenue Office and District Administration Office to get any work done.
In the yesteryear, Tekarnath used to be the president of a ropeway committee that transferred goods from Jhakridanda to Bhattedanda.
"But, once the roads were built, ropeway became expensive and they stopped," he said. "Ropeway is a reminder of what things used to be."
As we were talking to Tekarnath, voting had begun. There, we met Suntali Khadka who had cast her vote and had only four expectations from the newly elected representatives.
"I want this place to develop. That will help create employment and make people happy. All in all, I don't want people to leave Nepal and go abroad for employment and leave their old parents alone. That needs to stop," she added.
Soon the polling station was full of people who had come there on pickup trucks, motorbikes and cars. Then, we started our journey to get back to Kathmandu valley.
On the way back, the roads were empty. We stopped by a polling station of ward number 6 of Godavari municipality. The place was known as Malla Hotel by the locals. The place had a hotel, but it shut down during the Maoist insurgency and has never reopened.
Lele's Anil Sanjel said that even though there is a belief that Singha Durbar has made its way to the village, the reality was different.
"The people in the village haven't been able to use the service," said Sanjel. "All we want is basic rights like drinking water, health post and schools. We don't want ambitious promises when you can't even build proper roads."
Lele is only 15 km away from Kathmandu, said Kumar Khadka, a former ward member of ward number 6. But, he feels that the place is not taken care of well by the central government.
"They say this is a municipality, but it's not. They haven't helped us develop. The state needs to help us," said Khadka. "We have to wait two hours to get on a bus."
---
This story was translated from the original Nepali version and edited for clarity and length.