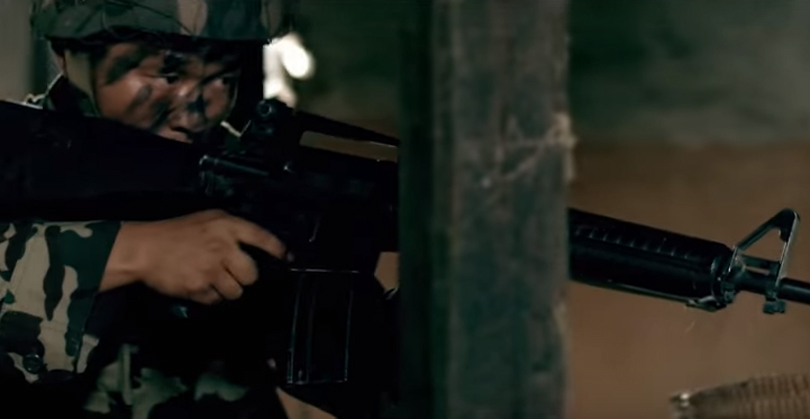 In recent years, there has been a remarkable rise in Nepal's movie industry. Kollywood, as it is known, is gaining popularity and the Nepali audience are thronging the halls to watch Nepali movies. The cinematography has increased drastically, but what stands out nowadays is the acting of some of our prominent names. One of such name is Dayahang Rai who has become a household name in today's age; and has stood out in his new movie Taandro.
Tandro is not a movie for everyone, yet it one which should be watched by everyone to get an idea of how life was during the insurgency period. Based on a true story, the movie tells us about a Maoist 'comrade', Ganga Bahadur Lama, who gets shot by the army and ends up badly injured. Based on a book by Lama, this biopic revolves around the single character: comrade Koshish, played by Rai.
Koshish is an important member of the cultural wing of the Maoist party, which plans to overthrow the monarchy and is on a mission to spread awareness about the Maoists in the villages all overNepal. In an attempt to stop this, the government ambushes the Maoists and Koshish gets shot in the leg and is stranded on a maize field with none of his friends around him.
The start of the movie is gripping and is planned very well as it makes the audience want to know what is to come next. The slow and detailed build-up of the movie is quite nice; but after the interval, the story and the entire movie fail to grab attention. In the first half of the movie, we are introduced to numerous characters; but in the second half, they simply disappear. It leaves the audience wanting to know where the rest of them are.
The second half is all about Koshish (Rai) and how he does not give up his life. Most people in village refuse helping him, as they believe he and his party have brought unrest to their peaceful village. While the first half is all about the director, Santem Bhutia and his script, the second is all about Rai's acting and Purushottam Pradhan's cinematography.
The movie is one of Rai's best works as he has played his character very well. The manner in which he has played the role of an injured man is very commendable and deserves plaudits. Pradhan has captured his expressions very well; and deserves as much credit as Rai.
Ram Babu Gurung and Saraswati Chaudhary have been as good as Rai even though they do not have a central role in the movie. Other notable actors like Kamal Mani Nepal and Maniram Pokharel, although with a brief role, have proved once again that they are natural actors. However, the performance of Buddhi Tamang is not as good as his previous roles.
Another element of the movie that you should not hesitate enjoying is music. The music in the movie has been incorporated very well and gelled nicely; apart from some background music that is out of place.
There are times in the second half where Rai starts getting into flashbacks. However, it could have been planned in a better manner as there is no context and no one quite understands what the story is trying to say.
They movie loses its appeal in the second half; but it gives us a general outlook on what it was like during the insurgency period.  As most of us only know one side of the story, Taandro gives us a general idea about how life was like on the other side.
Genre: Biopic/Drama
Director: Samten Bhutia
Cast: Dayahang Rai, Ram Babu Gurung, Saraswati Chaudhary, Maniram Pokharel
Screening: QFX Cinemas
---
Published on November 13th, Monday, 2017 10:07 AM
---
Download Onlinekhabar App. Android click here & IOS click here . Keep in touch with us on Facebook, Twitter & YouTube.