Hira Lal Shrestha was the only student in his batch to pass the School Leaving Certificate in one of the remotest settlements in Nepal in early 2000s.
For his fellow villagers in Gupteshwor, one of the remotest settlements in one of Nepal's most under-developed districts worst affected by the decade-long insurgency, the 'lone SLC graduate' tag was an indicator that he was likely to succeed in the future, probably land a government job.
But Shrestha, now in his 30s, couldn't pursue his education after passing tenth standard. The insurgency made it difficult for him to stay home. Worried that he too would be forced to join the rebel army, Shrestha decided to go abroad for work, and stay there for at least a few years till things became better at home.
Life abroad was also not easy.
"I had to face a lot of challenges. From the pay to the long working hours, the odds were stacked against us."
"There were times when I felt like quitting, but I somehow managed to pick myself up every time. I always told myself that when things get better, I will go home, and develop my village."
When the insurgency ended in Nepal in 2006, he decided to return home for good.
His father was an exceptional farmer; he put in a lot of hard work. However, every harvest season, instead of making profit, the family accumulated debt. His yield did not do justice to his hard work.
Armed with a broader perspective he acquired during his work in different countries in the Middle East and East Asia, it took him only a few days to realise that traditional agriculture practices were to blame.
Though agriculture was its mainstay, his village had to buy vegetables and grains from Manthali and Kathmandu. "Whenever I went home, I always saw tractors bringing in food and grains to our village. They were always empty when they returned to Manthali," he remembers.
"Back then, I used to think about the possibility of sending our own produce to the markets."
Hira had consulted with agro-­specialists and others about the kinds of plants that were suitable for the area.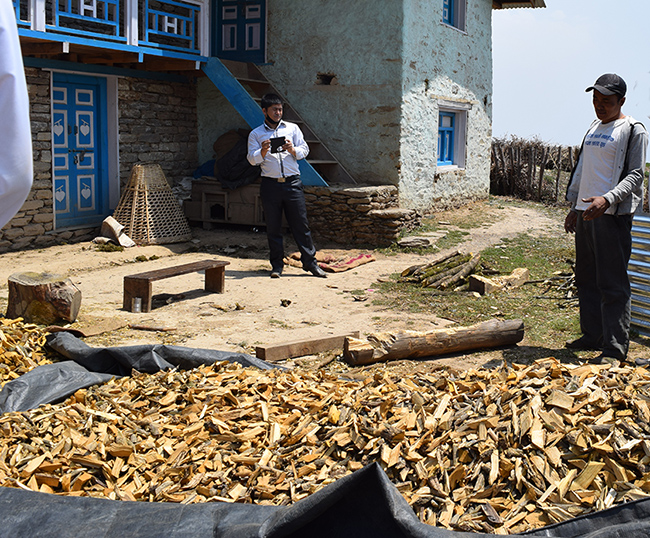 He was told that herbs like chiraito (used to treat fever, constipation, upset stomach, loss of appetite, intestinal worms, skin diseases, and cancer) had a good market value, and they would do well.
"Given the climate, potato farming was also recommended, so I and a couple of my friends decided to farm chiraito as well as potato."
Hisum Jadibuti Udhyog was thus born.
"The ­business did not not give profit in the first two years. My other two friends decided to dissociate themselves from the business after a few years."
His friends told him they had to take care of their family needs and went abroad again. He was the only founding member, who continued the enterprise.
Shrestha is now slowly earning profit and has been able to pay off a significant amount of loan he took to start his venture.
Shrestha not only wanted to improve his family's financial condition, but also to help his village become prosperous. He tried to engage other villagers in herb farming. However, it wasn't that easy to convince. "They would scoff at my idea and laugh at me. They thought I was crazy."
But slowly, their perception changed when Hira's farm started earning profit.
The villagers, who had been sceptical about medicinal herbs, started coming to him for advice. He even started a small nursery to produce seedlings and mother plants for the herbs. "If people interested in growing herbs come to me for advice, I am ready to help them."
At present, Shrestha divides his time between his herb farm and vegetable farm (potato farm). Since they are located far from each other, Hira recently built a farmhouse at his potato farm. He was one of the top ten entrepreneurs in the Daayitwa Enterprise Challenge, Ramechhap 2015/16.
"Sometimes, people come from afar to consult with me on herb farming. I let them stay here. It feel really happy when they come to me for advice. Only a few years ago, people were sceptical about me and used to worry about what I'd do with my life."
In the next few years, he wants to make his village one of the top producers of chiraito and other herb plants in the country. He wants Gupteshwor to become a model village for ayurvedic herb production.
It will take time, but he's more than ready to pass yet another important 'exam'.
The author is associated with Daayitwa