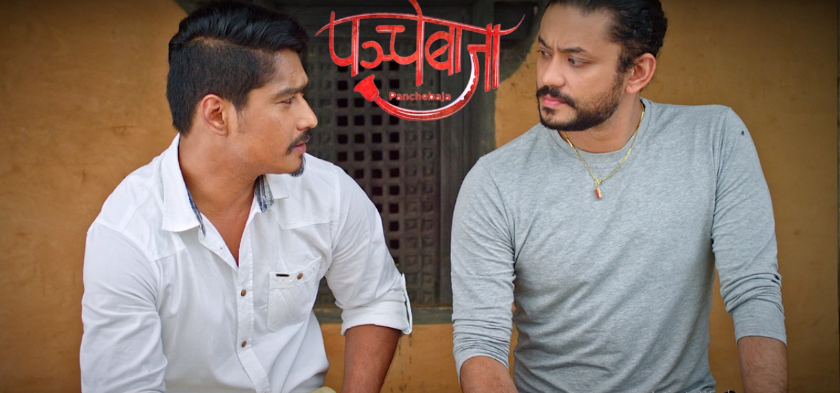 All Nepali movies seem to follow a predictable pattern these days. A slow build up leads to a predictable climax and when the curtain falls, the audience is left surprised how the film ended.
Panchebaja fits well with the pattern. The movie is full of fun but is clichéd dialogues and poor presentation are a big turn-off for the audience.
The film revolves around the lives three main characters Bhupi (Saugat Malla), Rudra (Karma), and Sahile (Buddhi Tamang). Bhupi is a successful theatre artist and has made it big in Kathmandu, Rudra is an unsuccessful businessman who is unemployed and Sahile is Bhupi's close friend who is grateful that Bhupi helped him get hitches–he is forever indebted to Bhupi. But their life takes a different turn when the two find out about Bhupi's desires. Bhupi falls in love with Rudra's wife, Rupa (Jasmin Shrestha) and is hell-bent on getting her. He tries different things to get close to Rupa–he even sends Rudra away to work. But that comes at a cost. He feels guilty that he is ruining the friendship between the two.
The story is set in a typical Nepali village and highlights a host of issues facing villages in Nepal such as superstitions and 'elopement.' But the movie lacks energy and the screenplay yet again is a disappointment. The script lacks imagination and planning and at times comes off as abrupt. That hasn't helped the editor, who has no choice but to break the continuous flow of the movie.
The first half of the movie introduces the cast and gives the audience an idea about a life of Bhupi. But Bhupi, as the antagonist, doesn't fit in with the role of a bad man. The second half is alright at it builds up to the end. The most interesting part of the movie is its ending, but that too fails to live up to expectation.
The acting is average. Malla's recent movies Lalpurja and Lappan Chhappan haven't received a good response and this one might not get him the much-needed acclaim either. His role as the bad man in the movie isn't worth admiration as he appears dull and boring. There are times when he tries to light it up with this jokes but fails to do so. Tamang once again tries to be funny but fails to impress and seems to play the same role over and over again. He might need to look at his past performances and choose his films more wisely.
Karma, on the other hand, looks better than he did in Sherbahadur. His dialogue-delivery is appealing but action sequences need a lot of work. Shrestha's portrayal of an innocent daughter-in-law is fair, but at times one does feel that she could have done better, especially when it comes to her chemistry with Karma. The rest of the cast fails to impress and the movie loses its charm.
The background score is impressive and songs by Anju Pant, David Shankar and Rahul Biswas are quite catchy and fit really well with the story.
The film could have been much better than it eventually turned out to be. It's not boring, but it's predictable and disengaging. But if watching a family drama set in rural Nepal is all you are looking for, you won't be disappointed with the movie.