At Nepal's central zoo in Lalitpur, three residents have a separate quarter, purpose-built for their comfort.
While Kalu and his sister Kali (pictured above) have been living in one of the two rooms of the quarter, their neighbour Gauri has another room for herself. The central zoo, which did not have a red panda for 24 years, welcomed Gauri in 2013, and in earlier this year, her neighbours moved in from Rolpa, where they were raised by a local family.
Gauri was wounded when she was rescued from Ramechaap in eastern Nepal. The two years old mammal was in a frail state when she was first brought to the zoo where a team of vets nursed her to back to health.
Sightings of the animal is rare in the suggested habitats of the species which covers a stretch of temperate and sub-alpine forest in the lower Himalayan region of Nepal. It was, thus, especially remarkable that prior to their shift to the zoo, the sibling had found a home with Man Bahadur Budhamagar and his wife Lahari Budhamagar in Rolpa.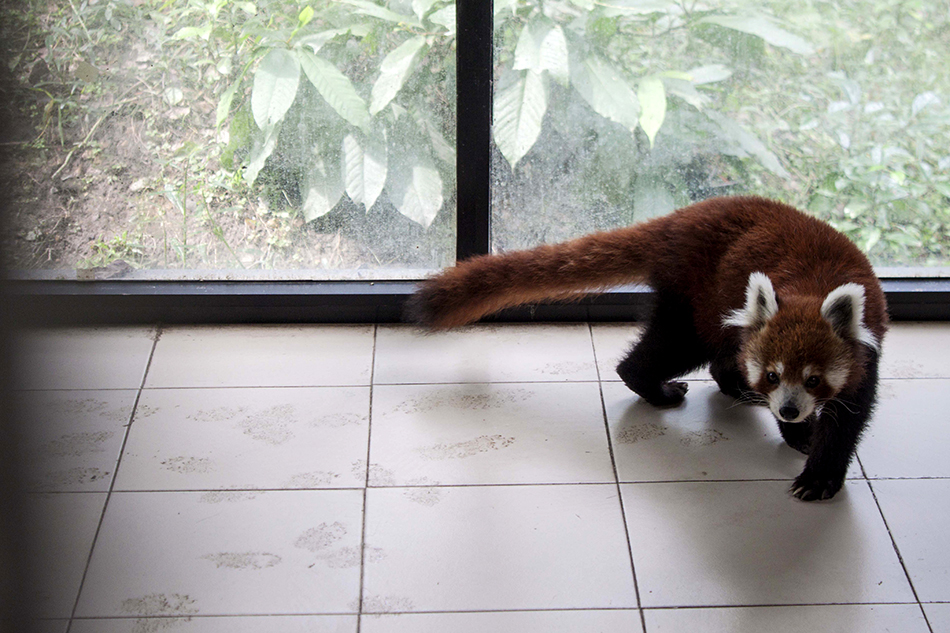 In their natural habitats  in the temperate forests of Nepal, India, Bhutan, Myanmar and China – the creatures scurry around and lay on trees, often with their bushy tails covering their body. It is easy to see why these animals have earned the unofficial title of the 'most beloved' residents of the zoo. The mammals, which are a shy bunch, grow slightly larger than a cat and consume bamboo shoots, leaves and small insects.
Commonly known as 'Habre' in Nepali, the mammals living in the central zoo are members of an endangered carnivore mammal species (Ailurus fulgens) which are commonly found in the altitude of 1500-4000 m above sea level.
While it is hard to replicate their natural habitat in the boxy interiors of the quarters in the central zoo, their survival and growth may not be entirely possible elsewhere, at least in the areas where Gauri and her neighbours were rescued from.
"We have observed that the red pandas feel comfortable when the temperature is around 22-25 degrees Celsius," says Ganesh Koirala, assistant curator at the central zoo.  "We have 24-hour air-conditioning for them. They are the only animals for whom we have such facility," adds Koirala. "The animals have the choice. They can either go outdoors, where the temperature fluctuates, or stay indoors where they feel more comfortable."
In Nepal, sightings of red panda have been reported at  Kancehenjuga Conservation Area, Makalu Barun National Park, Sagarmatha National Park, Langtang National Park, Manaslu Conservation Area, Annapurna Conservation Area, Dhorpatan Hunting Resever and Rara National Park. Red pandas have also been spotted in community-managed and national forests such as Jamuna and Mabu VDCs in eastern Nepal, says to Dr Mukesh Chalise, Central Department of Zoology, Tribhuvan University,
National Trust for Nature Conservation estimates the total number red pandas in Nepal to be around  300, half of which are found in the Langtang area. Deforestation and wildfires has been the cause of the gradual decline of the species which is legally protected by the government under the National Parks and Wildlife Conservation Act, 2029.
Meanwhile, Gauri and her neigbhours look at peace in their new home in the zoo, where they have become one of the major attractions for visitors.