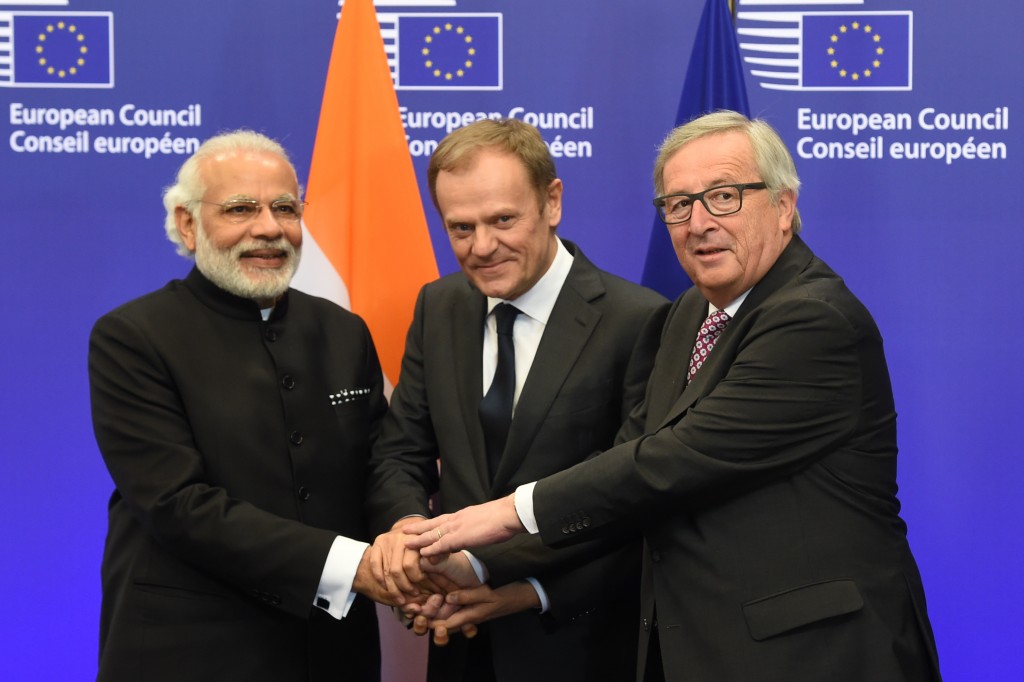 Commentary
This past week, Nepal unnecessarily figured in the Joint Statement issued after a summit meeting between India and the European Union in Brussels. While the government of Nepal has already taken exception to No.17 of the agreement, which calls for a constitutional settlement in Nepal within a fixed period of time, the Indian government has remained mum on the issue.
This is not the first time that India has raised Nepal's internal matters in an international forum; in fact this has been the case with that of other countries in the neighbourhood also. India has been raising internal issues of the Maldives, Sri Lanka, Bangladesh and Pakistan while Modi travels the world to rally support for India. But there's own neighbour India does not dare open its mouth about. It's China.
India's recent change in the neighbourhood strategy demands a closer look at why it is doing so, and what India's neighbours need to tell India about it.
From Britain to Belgium
Few months ago when Mod visited Britain, British Prime Minster David Cameron and the Indian premier issued a joint statement calling for a constitutional settlement in Nepal. The document lends support to critics of the Crown, who say that despite having centuries-old friendship with Nepal, the UK looks at Kathmandu, and the rest of the country, only through the eyes of New Delhi.
The Joint Statement did not get a befitting reply from Nepal's government that time. But this time, the government's reaction was sharp. The Prime Minster himself warned India and the EU to not to interfere in Nepal's affairs.
There are indications that the government is preparing to summon the Indian and the EU envoys to seek clarification on the issue.
Questions to India
This author would like to ask New Delhi why it could only talk about Nepal, and not about China?
It goes without saying that Britain has sub-contracted the Sub Continent to India, and its ties with the smaller countries in the region are being dictated by New Delhi.
New Delhi is not ready to recognise the sovereignty of Nepal, let alone look at it as a worthy partner.
What India does not want in Nepal?
Nepalis now understand that India does not want a prosperous Nepal. India feels threatened when there's unity among the Nepali people.
The Brussels statement shows that the EU is also complicit with India, and it considers Nepal as a vassal state under India. This is disrespectful to Nepal sovereignty.
This author holds the opinion that no country has the right to talk about Nepal in a forum where Nepal is not represented.  If this happens, it should be taken as undue interference.
The statement proves those people right who say that India is going around the world spreading propaganda about Nepal's constitution, trying to get a pat on its back for its reaction to the promulgation of the constitution in Nepal.
What India really wants in Nepal
Look at the Terai road project. How many years have passed since India took up the project? Look at Panchewsor, look at BP Koirala Highway. If that is not enough look at India's reaction to a recent agreement between Nepal and China on railway connectivity.
We should understand that India considers Nepal as its trophy, and it does not want Nepal to develop. It also does not want other countries to enter Nepal without its permission.
What we need to do
It is time that we (Nepal and the rest of the region) teach New Delhi lessons in diplomacy.
Indian politicians and diplomats with a narrow agenda should not think that Nepal is anti-India. Nepal wants friendship with India, and it is with India that we have a special relationship with, than any other country, including China.
The irony is that the Chinese understand this more than the Indians do!
And for the Europeans, they should understand their human rights agenda is more needed in India than in Nepal.
Nepal can address its issues on its own.