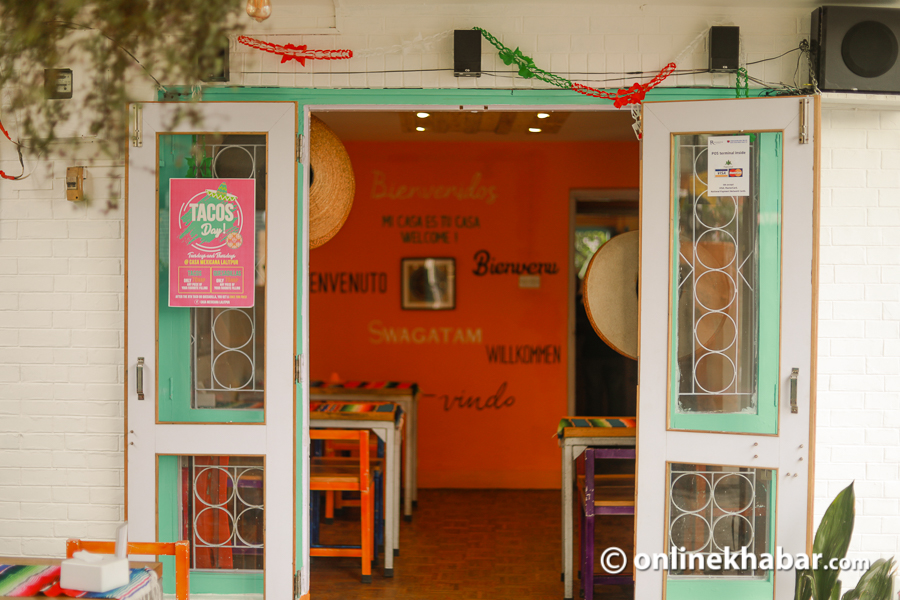 Sipping Corona and nibbling on nachos and tacos whilst wearing the sombrero surrounded by Mexicans at Casa Mexicana in Bhakundol, Lalitpur, I felt transported to Mexico.
As the restaurant was running a promotion on the occasion of Mexico's Independence Day, the restaurant was abuzz. The restaurant isn't big, nor it is fancy. But it is chic, and that just makes it stand out. From the colour combinations to the attention to fine details when it comes to décor, the owners really seem to have put in an effort while designing the place.
There are sombreros (Mexican hats) everywhere so everyone can try them on and the use of pink and orange colours has to be appreciated. The younger generation might even call the place 'Instagram-worthy'.
The first Casa Mexicana opened in 2017 in Gairidhara and in late 2018 a branch was established in Lalitpur. This goes to show that the place has been doing good business. While the one in Gairidhara is a bit compact, although the owners have done a decent job with the neat eating space on the terrace. The one in Bakhundol is a bit bigger, and dare I say, a lot cosier. The one in Lalitpur also serves alcoholic beverages–the one in Gairidhara doesn't.
While the place had a special buffet on the occasion of Mexico's independence day, I opted for a la carte.
I ordered the staple Mexican tacos along with pambazo and sopes.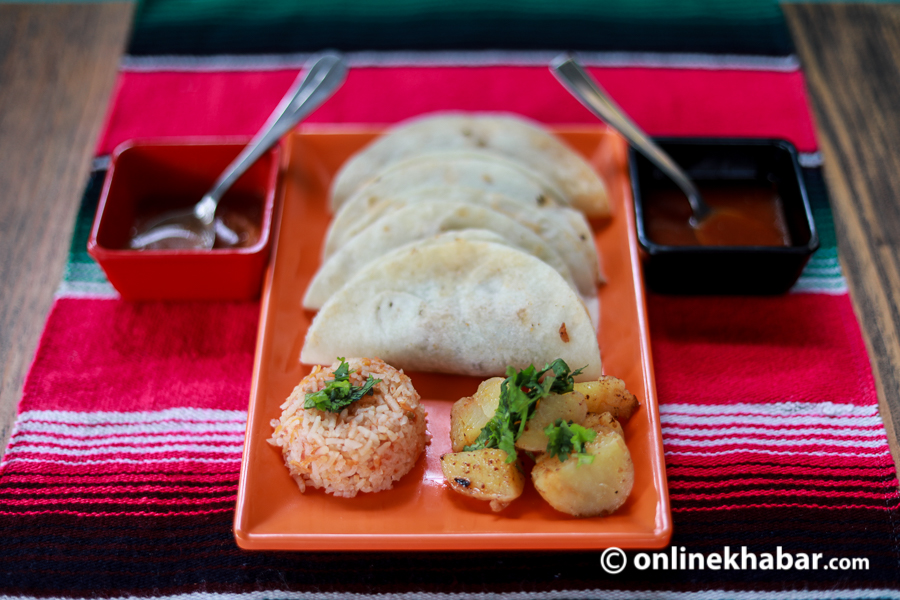 The tacos were alright. It wasn't very different from tacos served by other restaurants in Kathmandu, as it had the same texture and similar taste. I went for the chicken variant, which was quite tender and full of flavours, but I've heard that their pork taco is equally good. What makes Casa Mexicana's taco stand out has to be their salsa which adds a lot more tangy and spicy flavours to the tacos. They have two variants, one has more flavours while the other one has more spices. If you are that type of person who likes cheese on everything they eat you can also opt for the quesadilla which is basically tacos with cheese on it.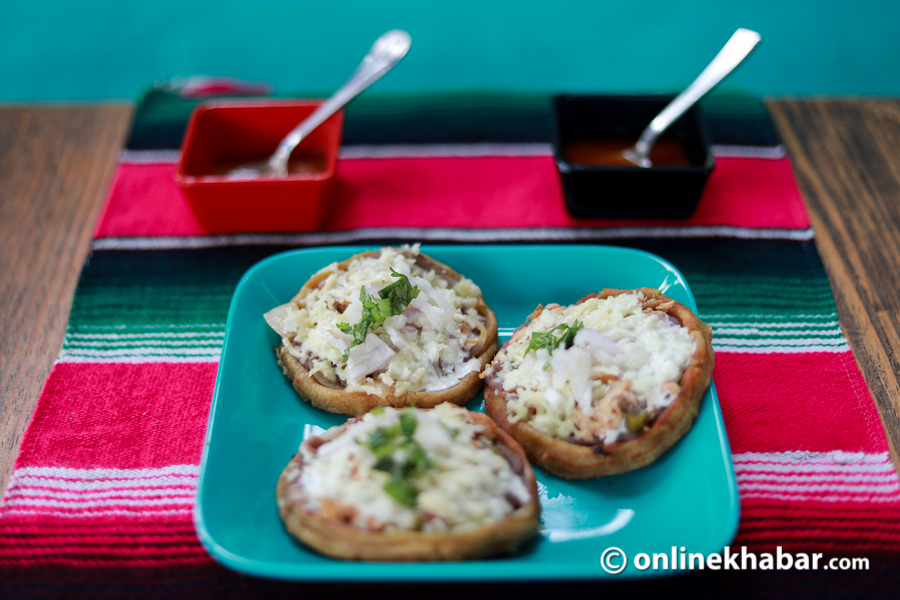 Along with the tacos, I also tried their sopes, which is like a thick tortilla with a lot of meaty toppings refried beans and cheese. The dish was a bit bland to my liking but the salsa added some flavour to the dish. I personally didn't like it as much but I think this item should be ideal for children.
The final dish was the pambazo, was recommended by one of the staff. I have to say that this was one of my favourite dishes I have tired at Casa Mexicana. This salsa-infused bread tangles all your taste buds with it savoury and spicy texture. The dish is basically bread with a filling of chicken which tastes like chorizo and some refried beans and sour cream. It's extremely savoury and is probably the only dish that matches the Nepali palate.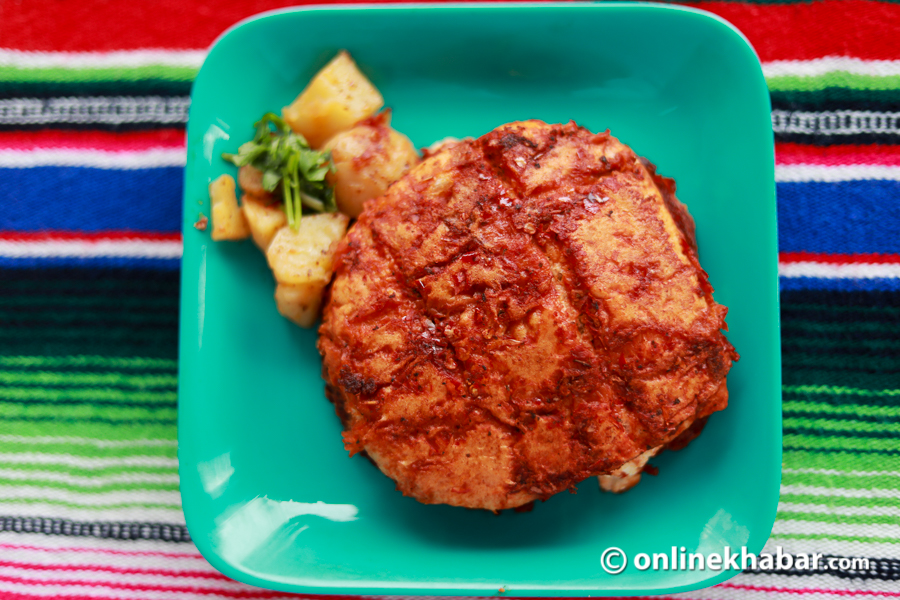 But while the chicken filling is delicious, the refried beans are creamy, the lettuce is fresh and crisp, the cheese is salty, and the sour cream is cooling, the real star of the show is not the filling. It's the bread, which still has its distant texture even though it is dipped in the sauce. If I were the owner I'd name the whole restaurant Pambazo!
There are other dishes too. Enchiladas are quite good as is torta agoda but both are a bit overwhelming for my like but their burrito is really good. But what sells the most here are its tacos and if you happen to visit them on Tuesday and Thursday, you get special deals on tacos.
To sum up, Casa Mexicana is worth a visit because you shouldn't take my word for it. There are two outlets, one in Lalitpur and the other in Gairidhara and both are equally charming however, I still feel that the one in Gairidhara serves better food. There is a big sign on their Gairdhara brach which reads: "This is what Mexico feels like." While I don't know if its true or not, but if this is what Mexico feels like, I'd want more of it.
---
Published on September 17th, Tuesday, 2019 11:12 AM
---
Download Onlinekhabar App. Android click here & IOS click here . Keep in touch with us on Facebook, Twitter & YouTube.