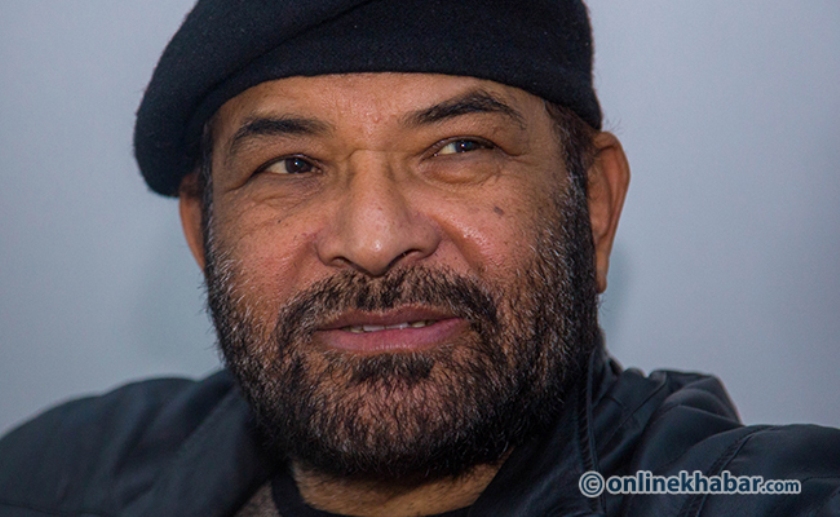 During the 80s, the Nepali film industry saw the rise of accomplished filmmakers, whose films are still remembered today with a certain degree of nostalgia. During the decade, perhaps mirroring the renewed spirit that the industry has taken today, filmmakers were out exploring stories, to redefine Nepali cinema as a whole.
The decade saw the production of films that would become synonymous with Nepali cinema. With films like Lahure, Kusume Rumal and Chino, director Tulsi Ghimire led this generation of filmmakers to an era that many remember as the 'golden age' for Nepali cinema.
In a recent interview with Onlinekhabar, Ghimire summed up his journey in five key life-shaping events.
1.
Known to the kings, respected by commoners
I was born in Kalimpong in the early 50s. It was a simple era. Following their retirement, my parents tended to our sprawling farm where I grew up. My parents used to tell me, "Become someone who is known to the kings and respected by the commoners." This left a big  impression on my younger self. Even at an early age, I had made up my mind that it was by becoming an artist that I could live up to my parents' expectations. An artist is someone who is known and respected by everyone, I'd thought.
2.
Fanaa
In 1973, I was enrolled in a college in Sikkim, where I was working for the Central Water and Power Commission. During that time, a film unit had come to town to shoot a movie, Romeo in Sikkim. I interacted with the crew and made Laalji Yaadav, the cinematographer, my friend. I told him about my aspirations. What can you do to enter the film industry? I asked him that day. I asked him what I needed to do. He answered in a word: Fanaa.
Laalji Yaadav told me another thing that till this day holds true. Come to Bombay without any money if you want to be successful there, he'd said. Those who come with money have never made it there.
3.
My stint as a makeup man
I went to Bombay with Rs 500 on me. I had rented a room from Hanif, one of the assistant directors of Romeo in Sikkim. I requested him to find me a job, and he suggested that I learn the technicalities first. I started as a makeup man, and followed in the footsteps of Aagar Khan, my guru.
During the shooting of a movie called Laila Majnu, I was the makeup man. There was a day when I had to apply make up on six actors. I had already finished with five of them, but the sixth actor, the heroine of the movie, was busy talking to her boyfriend. She told me to wait even after I  requested her several times.
The shot was already ready, but she had not been touched up. All the heat was on me me. I still remember the attacks the production manager threw at me then. He didn't even spare my mother and sister. I decided to leave the job. I placed my make-up kit at my guru's feet and then left the sets without turning back.
4.
Editing and beyond
It had already been more than two years since I had left home. During that time, I had worked as a makeup man, a body double, a light boy and a camera attendant. I had even played small roles in several movies. I somehow found myself inside a professional editing suite, and I started working there as a cleaner.
When Jiji Patil, the editor of the studio, paid me for my work, I told him that I was there just to stay close to film equipment. He was impressed by this, and offered me to learn editing. I agreed instantly. After a while, I found out that editing was where my passion was. I worked wholeheartedly and even slugged it out as assistant editor for films like Chacha Bhajeeta and Dharamveer. I then started working for the renowned editor Kamlakar Karkhanis (the editor of films like Amar Akbar Anthony, Roti and Ponga Pandit).
The first movie that I edited on my own was Shradhanjali. This was in the year 1979, seven years after I had come to Bombay. Directing a film was still a long way to go, but little did I know then that Karkhanis would be instrumental for my career in Nepal.
5.
Guru dakshina
On the occasion of Guru Purnima in 1980, Karkhanis called all of his protege editors for a celebration at the Taj Hotel. He had taught us all to be accomplished editors. I was the youngest of the lot.
I had not even given a thought to directing a film then. I thought I  had learnt about the process through editing. While editing, the entire footage is at the disposal of the editor, and I had noticed a pattern.
During the party, I offered Karkhanis a guru dakshina. He warned me in advance, and said he might ask for something I may not be able to give. I insisted.
"Make 10 films in Nepali," he said.
Exactly a week later, I got news of his demise.
I directed my first Nepali film Bansuri the same year, and dedicated it to my guru.
***
Also read: