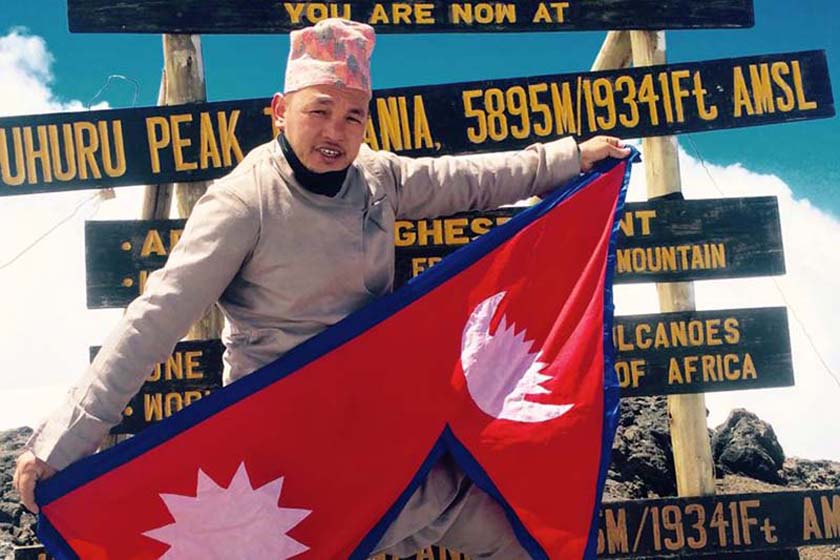 In the last few years, Nepal, known for its Sherpa mountaineers, has also seen the rise of many 'ultra' runners who have made the country proud in different international races. While the Sherpas are undisputed kings of the Himalayas, they are a different breed altogether from the runners.
But Sanjay Pandit, born to a Brahmin family in Pyuthan, was an exception. Pandit, who passed away trying to descend Mt Denali, North America's highest mountain, on Friday was both mountaineer and runner, and had made a reputation as an 'adrenaline seeker'.
The 28-year-old was a veteran of 11 successful mountain expeditions, including those to Everest, Manaslu, Kilimanjaro, Elbrus and Kosciuszko. On most of his expeditions, Pandit would put on the traditional Nepali daura surwal  and hold the national flag to pose for a photo. When news spread about his demise, on Sunday, the sports community in Nepal was shell-shocked as it lost one of its brightest stars.
No royal road to learning
Pandit was born to an erudite family in the western hills of Nepal. He was no stranger to walking long distances. During his interviews, he often talked about his school days and his Principal dad. In one of his interviews, he said that his home was 40 kms away from his school, and his dad would insist that he and his brother make the journey every day, come rain or shine.
After his SLC, Pandit was sent to Kathmandu to continue his education. He did continue his education in the city, but Kathmandu was more about inspiration for the teenager. It was in Kathmandu that he heard the success stories of Rajendra Bhandari and Baikuntha Manandhar, and that made him take up running. In 2008, he took part in the first Kathmandu International Marathon. After that, he ran Kathmandu-Khasa, Kathmandu-Gorkha, Dang-Pyuthan route. In 2011, he ran from the Nepal-China border point in Tatopani to commemorate the Nepal Tourism Year.
But running was not enough for him, it did not give him the thrill he yearned for. He said that an interview of legendary climber Apa Sherpa he watched on TV made him take up mountaineering as well.
In 2012, he tried climbing Everest, but failed. He returned the next year, but had a close shave; his Sherpa guide died on the mountain. He ran out of oxygen, and was counting his minutes, when another climber who was returning to the base camp gave him extra oxygen he was carrying.
But that did not stop him. He decided to start a campaign to climb more mountains outside Nepal. Mt Kilimanjaro, the highest peak in Africa and Mt Elbrus, the highest in Europe, were easy pickings for the seasoned mountaineer. He then went to Australia to climb Mt Kosciuszko. He even made it to Antarctica.
The demise of a legend
When Pandit said he was going to climb Mt Denali, his friends and supporters felt it would be yet another 'easy' climb for the mountaineer, who has been to extreme places on Earth. But fate had it otherwise. According to local reports, Pandit died at around 5,000 metres while descending the mountain. Park spokeswoman Maureen Gualtieri said Pandit was heading down the popular West Buttress route of Denali when rangers received a request for help about 1 am local time.
"An independent party of three had been descending from Denali Pass when one of the teammates collapsed due to unknown illness," Gualtieri wrote in a statement. "By the time the initial team of two (National Park Service) mountaineering volunteers reached the scene, the climber was unresponsive."
If Pandit were alive, it was certain that many more records would tumble, and Nepal's flag would flutter on top of more mountains. Pandit leaves behind an inspirational story for young Nepalis to persevere through hardship and to dream big.
---
Published on June 19th, Monday, 2017 3:21 PM
---
Download Onlinekhabar App. Android click here & IOS click here . Keep in touch with us on Facebook, Twitter & YouTube.