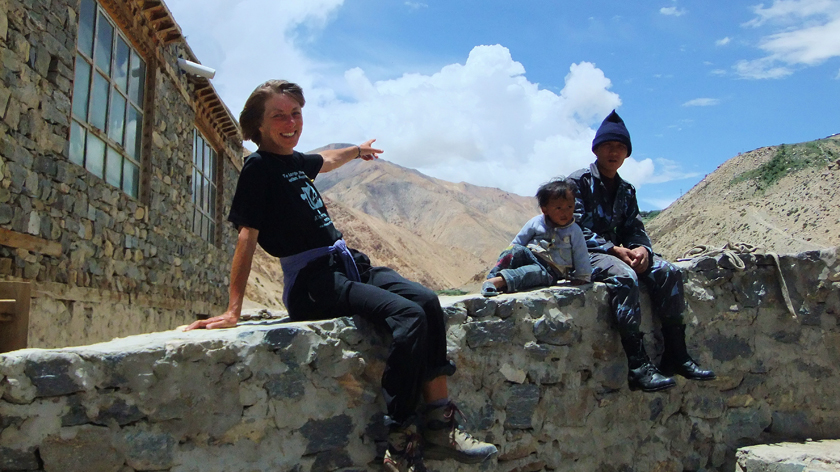 Gerda Pauler is best known for walking the length of Nepal in 2012. She related the walk, which took her 123 days to complete, in her book Great Himalaya Trail: 1,700 Kilometres Across the Roof of the World. She did the trek to raise awareness on autism and to raise funds for the cause. Pauler has a knack for places off the tourist trails, for interacting with locals and adventure. She has continued to help raise funds to address the issue of autism in Nepal. She told Kapil Bisht about how she got hooked to travelling, her idea of an adventure and why she thinks Nepal is special.
You have said that you hated the trips to the Alps your parents took you on when you were a child and that you preferred staying home. It's quite a transformation from that child to someone who loves travelling? How did this happen?
I once read that psychologists say that individuals need to oppose their parents' lifestyle in order to develop their own personalities, even if eventually they decide to emulate their parents. But then it's their decision, it's something they arrive at after trial and error. That is what happened to me. As I grew older I saw the benefits of being in the outdoors.
I was also always very interested in cultures, especially in the Himalayan cultures. It wasn't necessarily only the mountains. On my first trip to Nepal, I went to Poon Hill. When I got there, I wanted to see what was around the next corner. So I kept walking. That's how I got hooked to long walks and long-distance bike rides.
Your first self-planned trip?
I went to Yugoslavia with a couple of friends. I was sixteen. That same year, I also went on a solo trip to France. I soon began exploring different places in Europe.
What made you want to leave home?
I've always had an adventurous side deep within me. I think I inherited it from my mother. She always wanted to explore foreign countries, to see different cultures. So from very early on, I was always a dreamer. I wasn't reading the typical books about horses and dogs that girls my age read. I read about Sven Hedin and other big explorers. I had the idea in my head that I wanted to see these places that these explorers wrote about. Reading about these explorers surviving winds and sandstorms was much more interesting to me than reading about girls riding horses. Something about my personality wanted me to go off into the unknown.
Travelling in Europe as a teenager, were you sightseeing in cities or venturing into the outdoors?  
I get tired and bored very soon in cities. It's good to go to a museum and see something that is representative of a country. It's a sign of globalisation that walking around in Delhi is not any different than sauntering through European cities: it's the same kinds of shops, the same brands, the same offers. So what's the point in looking at a Benetton showroom in Delhi or Ljubljana, Slovenia?
When did you first come to Nepal?
In 1987.
What brought you here?
When I was growing up, the hippie movement was still a big thing in Europe. I wanted to get on one of those hippie vans that went from London to Kathmandu. I dreamed of going over the Khyber Pass. But I was too young to do that. By the time I was old enough to do it, the Russians were in Afghanistan: travelling overland was no longer possible. But I still had the yearning for Kathmandu, to see it for myself. Several of my friends had travelled overland and I had seen pictures of Kathmandu. I was fascinated. I didn't want to sit in front of the TV looking at pictures of Nepal and going, Wow!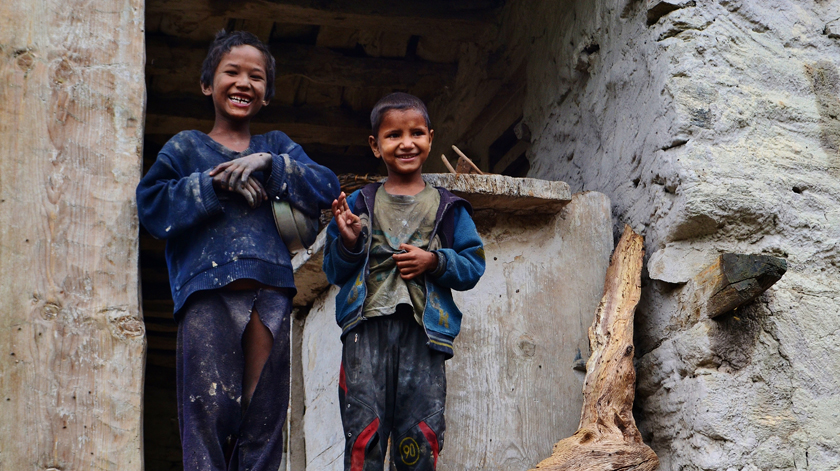 Other things happened in my life and it took me a while to get here. The cultural side of Nepal was wonderful, but I remember looking at Dhaulagiri and Annapurna from Poon Hill on my first trip and thinking, Is that possible?
My plan was to do the Poon Hill trek. But when I saw the mountains from Poon Hill, I just had to continue.  I got into trouble because I was running out of time. I thought I could catch the plane from Jomsom to Pokhara, but there were no planes coming to Jomsom because of bad weather. So I had to walk down to Pokhara. I did it in three days, walking fourteen hours a day.
Seems you kept fit even though you worked fulltime as a teacher in Germany.
Not really. But what I learned then – and I still believe it now, at sixty – is that it's all in the head. If you have a goal, and if you concentrate on it, you manage much more than you think possible.
Did you return soon after that first trip?
Yes, three weeks were not enough. I came during the monsoon the second time. People told me I was crazy to go during the monsoon. I think monsoon is such a beautiful time to visit Nepal. You see a Nepal that is less touristy, very quiet in some places, and you have beautiful flowers. I remember arriving in a meadow covered with edelweiss in Manang. It's such a rare flower in the Alps. I couldn't believe my eyes. And the weather is not that bad, nor are all the horror stories about leeches.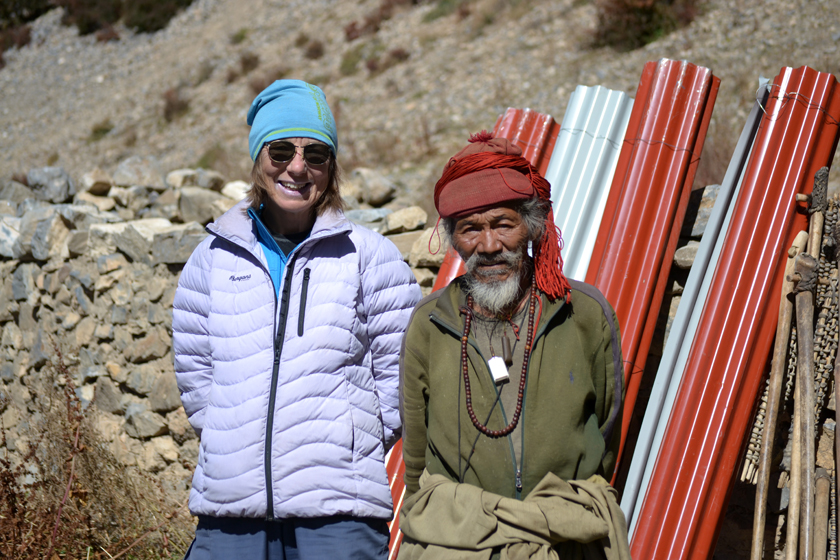 How did you come up with the idea of walking across Nepal?
The idea for walking the length of Nepal goes back all the way to the eighties. At that time there was a German woman, Dietlinde Warth, who lived here with her husband, an aid worker. She walked Nepal's length. This was when regions like Mustang and Dolpo were off-limits. So she walked at lower altitudes. She walked 2,000 kilometres over a period of several months. I thought that was fantastic. She wrote a book about it. But like most times, you read something interesting and then your life takes over and you forget. In 2011, I had no adventure that I wanted to do. I had been to Central Asia, biked all over Kyrgyzstan and Russia.
I wanted a big adventure in the Himalaya. One day I found the Great Himalayan Trail website. I decided to do it, but I still had a job. The final push to do the walk came when I read a newspaper article about autism in Nepal. So I thought I'd do a charity walk for autistic children in Nepal. You could say it was an excuse to do the walk, or a combination of a personal adventure with a good cause. I went back to Norway, where I lived, quit my job and began planning for the trip, which was not easy because at that time there weren't a lot of people who had done it. Robin Boustead was one, and I contacted him. And another American man who had done the walk proved a great help.
You have said that all your life you have "tried hard to avoid standstills and a state of motionlessness." Do you feel that going on trips, like staying in one for some people, can become a bad habit, an addiction of sorts?
I take my cue from what Albert Einstein said: "Life is like riding a bicycle. To keep your balance, you need to keep moving." On the one hand there is my job, with predictable situations. But for me only that will be too boring. So I need adventures, this going to other places and into the unknown. Maybe if I only travel, that would become routine. That's the balance, between the routine life and the adventurous one.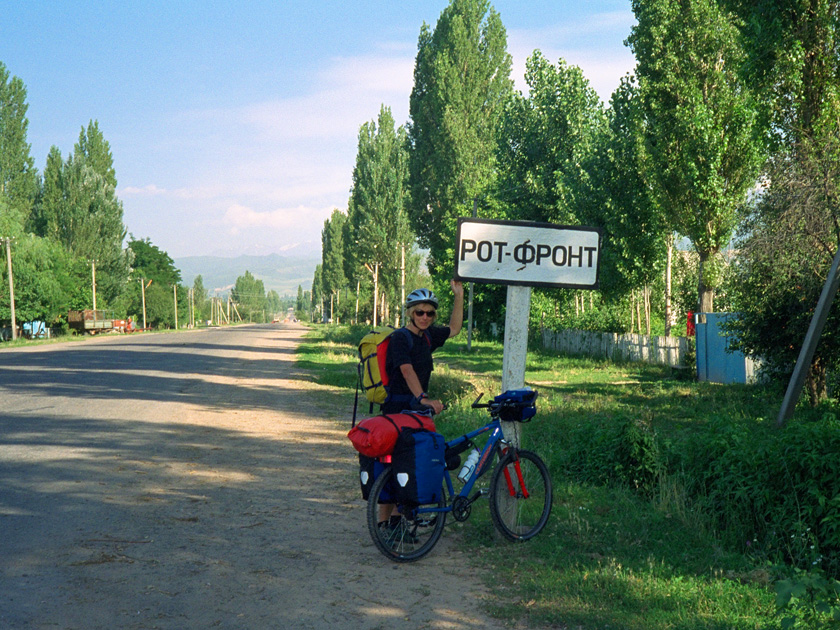 So these two sides of your life enrich each other?
Yes. I think when you travel and experience hardships and a totally different way of life, you return home changed. You go to your bathroom and turn on the hot water and there is hot water. If you have your hot water every day, you don't care about it. You don't think about the small luxuries. When there is no hot shower for weeks or no cappuccino, then you begin to see how privileged you are. We in the West don't notice how privileged we are. But it's normal compared to the rest of the world. So travelling, in a way, takes you back to the basics.
Do you have thoughts of turning back often, especially when it gets boring or unpleasant?
No, because usually I go to places that are very different from where I live. When I am travelling in Europe I usually go on a bike so that I cover greater distances faster and experience more diversity. Walking 30 kilometres on a gravelled road is not all that exciting.
I had a why-am-I-here moment while doing the Great Himalaya Trail. I got lost somewhere near a pass. It started raining, I was freezing. It was cloudy. I couldn't find the trail. I had sent my guides ahead. I started shouting to them. I thought to myself I could have been having a glass of good red wine in a restaurant somewhere in Italy instead of being there. It happened once on a four-month trip. Usually I don't think like that. It's all part of the trip. I've cycled 600 kilometres in the rain in Norway. What is the difference between cycling in the rain or sun anyway?
How do you cope with travails like that?
In situations like that I tell myself that it could be a lot worse. I mean I could be hurt. Shivering in the rain near a pass on a mountain is not the end of the world. So always look on the bright side of life. Try to find the positive side of a difficult situation.
You have continued raising funds for autism-related works in Nepal. Tell us a little bit about that.
The proceeds from the sale of my Great Himalayan Trail book go to AutismCare Nepal Society.
Selling adventure stories must be easy compared to getting people to contribute to your charities. Is that frustrating?
Definitely. There is a big outdoors equipment store in Germany that organises talk events regularly. They pay really good money to the speakers. So I focus on the adventure side of my stories at these events and set aside some of the money I earn for AutismCare Nepal Society. I also contribute to other charities. In Europe, lots of people show up to listen to this crazy woman talk about her adventures. And they pay fees to do so. So talking about the spectacular side of my experiences allows me to contribute to tackling the issue of autism in Nepal.
It is frustrating, but I don't worry about it too much. There are so many people around the world that need help and so many organisations trying to help them. But I don't support all of those projects. Just because I am interested in autism doesn't mean another person should share my concern.
What do you make of the rapid growth of tourism in Nepal since when you first came here?
When I think about development in Nepal, there is this one story that always comes to mind. In the late eighties, I was at a teahouse in Muktinath. I asked the owner where the toilet was. He pointed out the window and said, "Everywhere." Today, if you go to the same place you have a room with an attached bathroom. So tourism, with all its negative impacts, also has a lot of positives. Tourists create demands and in meeting those demands the lives of the locals are also improved. There is clean water and better hygienic conditions.
Your favourite travel writer?
HW Tillman. He did amazing things and propounded some groundbreaking ideas. He always wondered why there was so much focus on the 8000-metre peaks. There were so many peaks that were more interesting from a climber's perspective. He explored unknown places. And he was very funny. I can't stop laughing while reading his descriptions of a place I have visited fifty or sixty years after he had. Many are still the same!
Of course, I also love Alexandra David Neel, an amazing woman for her time.
George Schaller has said of your book: "She conveys that feeling wonderfully well with her evocative text and superb photographs of the landscape and people. But she maintains a realistic vision of the region, not seduced by a romantic notion that she is in untouched nature." Is it hard to stay objective in places of immense natural beauty?
I always try to keep in mind that I am a visitor. Of course, the visual impressions are there; it's like walking in a dream. But you meet people, talk to them and learn about life in those places. You see their struggles. I recently met a woman in Dolpo who told me she had no family and relatives. For her, one day without work meant one day without food. When you're in Dolpo you're like, Oh, nice mountains! But then you hear something like that and you realise it's not just about mountains. I try not to be blind to the people in a place of spectacular beauty.
Is a source of wonder for you to see people in poverty-stricken parts of Nepal smiling as though they didn't have any problem?
Yes. I have a photo I took in Jumla in which there are children clad in tattered clothes. But they are smiling. It was a Dalit community. I thought, They are not even part of the larger society where they live. They have no chance of getting out of this situation. When children in such a place and such a state greet you with a smile, it's a miracle. I wanted to cry.
A memorable incident from your travels in Nepal.
I met a man in Saldang, Dolpo. He told me about his life. He was married, with a handful of children. But apart from one son, he lost all his children. Then his wife died. He never remarried. The son that did survive was sick all the time. He sold his yaks, sheep and some of his land to take his son to Kathmandu, where he could receive proper medical treatment. He got better and they returned to their village. Five years after that, the son contracted polio. He sold some land again to pay for his son's treatment. The son recovered and is now 32. He has some trouble walking but he smiles all the time. There is so much joy in their lives. The son is married and you can see him and his wife are so happy. There is so much love and optimism in that family. It's amazing!
What makes Nepal special?
On one trip in South America, I thought to myself where all the smiling people were because everyone I saw was so serious. I come back to Nepal because of its smiling people. I don't enjoy the bureaucratic procedures of applying for permits here. I could easily go to some other country that has mountains. No matter how hard life is the people here will always find a way to cope with it. A couple of years when there was a severe cooking gas shortage here someone in the school for autistic children told me, "I have found that there are so many dishes I can cook in my rice cooker!" Nepalis are very good at coping with and finding solutions to difficult situations.
All photos: Gerada Pauler
---
Published on September 13th, Wednesday, 2017 12:07 PM
---
Download Onlinekhabar App. Android click here & IOS click here . Keep in touch with us on Facebook, Twitter & YouTube.