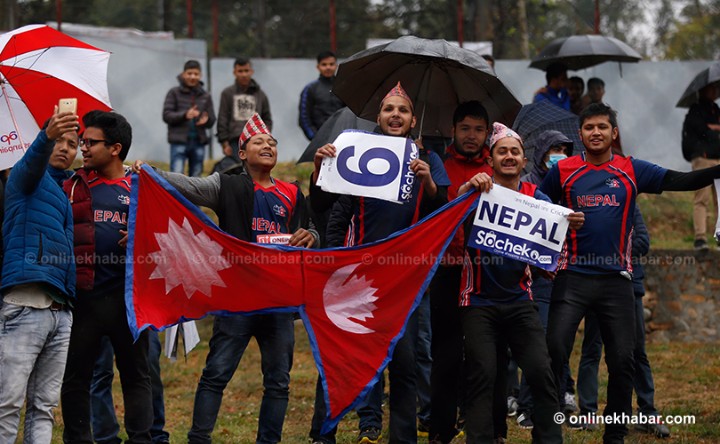 Supporting the Nepali cricket team and following their international matches is not an easy task. It requires a lot of patience, and dedication–it definitely is not for the faint-hearted.
As the team, which recently won a spot in the World Cup Qualifers, prepares for a big match, the buzz on social media starts a few weeks before the first ball is bowled. Fans take to social media to advise the selectors on who should play and who should be dropped.
"Binod Bhandari, why is he still in the team?" asked a fan on a Facebook page, which has more than 500,000 followers. Within a few minutes, comments start pouring in. "He is out of form. Although he bats at one of the most important positions, he hasn't been playing well," another replies.
But a more important issue still remains unaddressed. Nepal only has one cricket ground where international matches can be played. This means that big tournaments such as the recently concluded ICC World Cricket League Division 2, which featured six teams, cannot be played in Nepal–the tournament runs on a tight schedule and at least three grounds are needed.
Will the matches be streamed online or broadcast on TV? This is the million-rupee question that everyone wants answered. If the match is being played in Nepal, the state-run TV broadcasts the fixture live, but outside of Nepal, it doesn't follow the team. In the last two years, only four international matches were played in Nepal, and broadcast on state TV.
When international matches do take place in Nepal, the legion of supporters brave the weather to come watch the game. Even during weekdays, a crowd of around 50,000 gather easily to watch the game. They shout and they cheer for every run the Nepali batsmen score and encourage the team when they lose the grip on the match.
The atmosphere is electric. In the words of former Namibian skipper Stephen Baard and Hong Kong's ace batsman Anshuman Rath, it is every associate cricket team's dream to play in front of such a crowd. There are even those who say that the Nepali spectators are the '12th man' of the squad, in recognition of their contribution to the team. Nepal's skipper Paras Khadka never forgets to mention the 'fans' whenever he talks about the success of the sport in Nepal.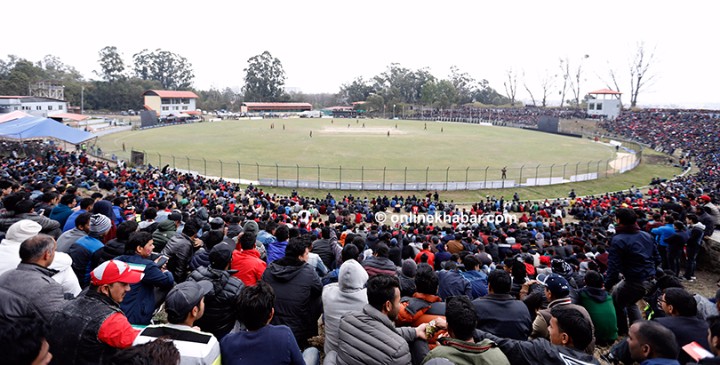 More often than not, there is neither a live broadcast nor a live stream available for the match. Fans have to resort to 'watching' their hero Paras Khadka hit sixes in boring texts that don't even care to describe how the six was hit. They have to make use of their imagination to enjoy Karan KC's blitzkrieg against Canada or Sandeep Lamichhane's fifer against Kenya, that too while commuting home from work.
Big TV companies that have occupied rights to broadcast the matches do not find it lucrative to broadcast Nepal's matches as advertisers and sponsors do not see a market for their products in Nepal. The ICC's media accreditation policy makes it impossible for reporters based in Nepal to cover the matches live. While there is enough interest in the game to encourage publishers to send reporters abroad to cover key matches, the ICC does not allow them to broadcast, livestream or even provide ball by ball updates, not even on Twitter. Nepal's Cricket Association, meanwhile, can't even think of broadcasting the matches as it is serving an ICC-imposed suspension.
When the issue of where and how to watch the match is settled, the team's performance takes the centre stage. Well, Nepal have done well to get to World Cricket League Division 1, but they too have had bad days. During the 2015-18 season of the World Cricket League, Nepal lost nine out of their 14 matches in the tournament. Around 3-4 of the matches were pretty close and could have gone either way. For a Nepali fan, the game is not over until it is over. Keeping track of the 'close' matches through text updates is an arduous task, you need to keep your eye on the screen the whole time.
Then there are rare moments when Nepal pull off the unthinkable. A lost match is won, and Nepal march ahead in their dream to play the ICC Cricket World Cup. That was what happened last week when Nepal beat Canada in the defacto semifinal of the World Cricket League Division 2. Nepal now play the ICC World Cup Qualifiers in Zimbabwe.
Social media is already abuzz, the fans are eagerly waiting for the tournament to begin. It's still not certain how many of Nepal's matches will be broadcast live. The Nepali team may not even put up a fight against big names such as Zimbabwe or Afghanistan, or perhaps they may. But that won't stop the fans from keeping track of every ball bowled. That is the agony and ecstasy of being Nepal's '12th man'.
---
Published on February 21st, Wednesday, 2018 11:43 AM
---
Download Onlinekhabar App. Android click here & IOS click here . Keep in touch with us on Facebook, Twitter & YouTube.