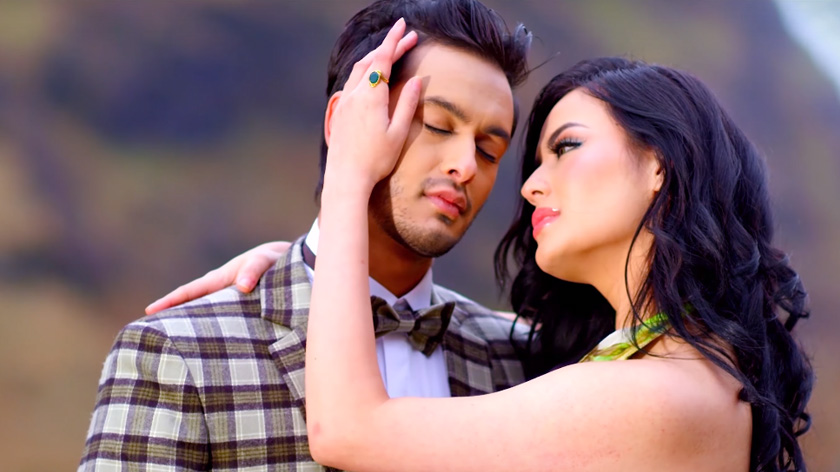 Multiplexes in Kathmandu are screening yet another romantic movie this week, the much-awaited Lily Bily. The movie starring popular actor Pradeep Khadka and debutante Jasita Gurung has been directed by Milan Chams.
This 'rom-com' revolves around the story of two characters Avash (Pradeep Khadka) and Shruti(Jasita Guring) who meet at a restroom at a cinema hall in Scotland. Both come from different family backgrounds–with their own baggage of emotions. During an unusual and interesting journey, they start to look for their soul mate inside one another before falling in love. But the story takes a turn when they find out the truth about one another.
The first half of the movie is avoidable and lacks substance and good writing. The start is abrupt as the movie loses the audience in the first half itself. The dialogues are clichéd and the sound is poorly dubbed.
The first half ends on a cliffhanger–it is the only reason people stick around to watch the movie. The story in the second half gets better, but again clichéd dialogues and screenplay leaves many in the hall restless and bored.
Pradeep Khadka has tried to do his best in a movie which he should never have signed up for. Rather than playing similar type of movies, he should have tried different roles to showed his versatility. But he had a movie to forget.
Jasita Gurung is below par and had a debut to forget. Her lack of experience in the field was the reason for such a mediocre performance–something the director must have noticed while shooting. All she does in the movie is cry from start to finish and brings nothing new to the table as she gives a flat performance.
Priyanka Karki does her best in a short cameo and the gulf in class and experience between her and Gurung os glaring. Anoop Bikram Shahi can be seen in a negative role again, but again his role was so short that nothing can be made of it.
The reason the actors were bad has to be the story. It plays on the same of narrative that we've been watching for decades. The writer of the film hasn't tried anything different and has been lazy with both the dialogues and the screenplay. The only thing that makes it different is that it's been shot in a foreign land.
The cinematography could have been better. Most of the film was shot in Scotland, which is an extremely picturesque and they have shown that. But it could have been done by literally anyone. There are times when the shot jump from one place to another without explaining why.
When it comes to romantic movies, at least the songs are good, but it's not the case when it comes to Llily Bily. The songs aren't any good and the choreography is just avoidable.
To sum it up, the movie doesn't leave a good impression. One thing can be learned from the film: Shooting a flick in a foreign location doesn't make it better. There are a lot of factors that make a movie great and this movie does not have any of it.
---
Run Time: 1 Hrs 50 Min
Director: Milan Chams
Genre: LoveStory
Cast: Pradeep Khadka, Jasita Gurung, Priyanka Karki
---
Published on April 15th, Sunday, 2018 11:17 AM
---
Download Onlinekhabar App. Android click here & IOS click here . Keep in touch with us on Facebook, Twitter & YouTube.