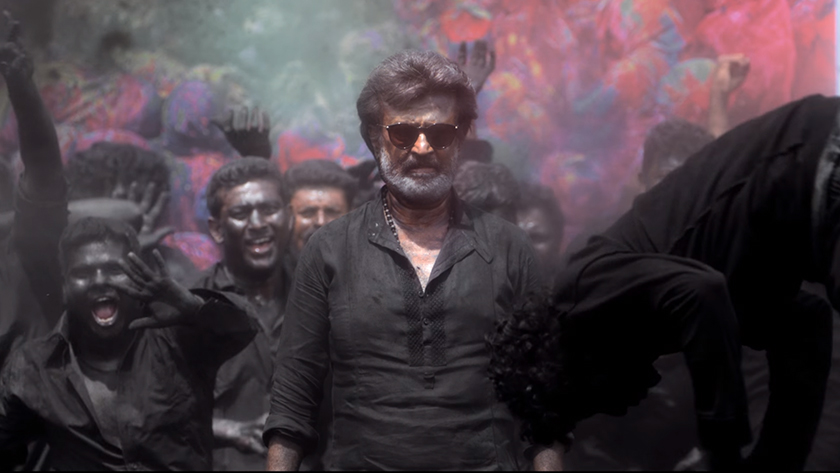 South Indian movies being screened in a Kathmandu multiplex is a rare site.  Apart from Bahubali, not many have done well when shown to the public. But at a time when Nepali movies aren't doing good business, bringing Rajnikant starrer Kaala seems like a no brainer.
The movie revolves around Kaala (Rajnikant), the don who rules one of the slums of Mumbai named Dharavi. Due to its central location, many builders want to take over the land and promise the people migrated from Tamil Nadu new houses. But the story takes a turn when Kaala sees the plans of these builders and opposes them. This makes him a prime target of the builders and a local politician Hari Dada (Nana Patekar) who want to eliminate him in order to get the land.
The first half of the movie is engaging and intense. It focuses on how we believe that by destroying, we can develop a case that has been seen here in Nepal too. It shows the hardships of the people who live in the slum. It shows how the people are brainwashed into selling their houses in return for fake promises.
The second half, even though it has a lot of action, is less engaging than the first as the audience can predict most of what is to come. The ending is a bit confusing and could have been better but the movie does end on a positive note giving the audience plenty to think about.
Superstar Rajni is superb like he was in his previous movie Kabali in which he was fighting for the rights of Tamil workers in Malaysia. His acting is natural and has that certain charisma that he has always shown. He has helped the director sell the movie which focuses more on the people of the slum than Rajnikant. But that said, Rajni is flawless, particularly in the action scenes on a fly over in which he rolls back the year and that too in slow motion with an umbrella in hand.
Nana Patekar as Hari Dada, the corrupt politician, is quite superb. He is natural and has played the role of an antagonist with grace. His confrontations with Kaala are terrific to watch, particularly the part in which he refuses to drink water in Kaala's house.
Zareena (Huma Qureshi) who plays the role of Kaala's ex-girlfriend and a social worker has also performed very well. Her acting is powerful and the chemistry between her and Rajnikant is worth admiring.
Eeshwari Rao (As Kaala's wife) and Anjali Patil (As Kaala's son's girlfriend), also put in noteworthy performances.
The background score has been well planned and is quite good along with the songs in the movie which have been timed well but could have been a bit short.
The cinematography is brilliant as all action scenes are flawless. George Williams gives the film a polish that makes it very slick.
Kala is a movie that stars Rajnikant, but is not a movie about him or his character. It's a movie about the people of Dharavi and how they make ends meet by doing manual labour. It's a story about how the blue coloured people help maintain the city and how the city fails to function without them.
Most Rajini fans might find Kaala a bit dull. But the nearly three-hour film has the potential to grow on those many audacious departures from the norm. Kaala is a film for the people and the fact that Rajnikant is there is just a bonus.
---
Run Time: 2 hours 46 minutes
Director: Pa Ranjith
Genre: Action
Cast: Rajinikanth , Huma Qureshi, Nana Patekar
---
Published on June 10th, Sunday, 2018 10:07 AM
---
Download Onlinekhabar App. Android click here & IOS click here . Keep in touch with us on Facebook, Twitter & YouTube.