All major Nepali and English newspapers published from Kathmandu today have given significant attention to the fall in mercury and its impacts on life of people. Many people have succumbed to the cold weather, especially in Terai districts. Besides, as always, contemporary political issues have received significant attention in the front page of newspapers published today.
Important
Cold wave claims two dozen lives in Terai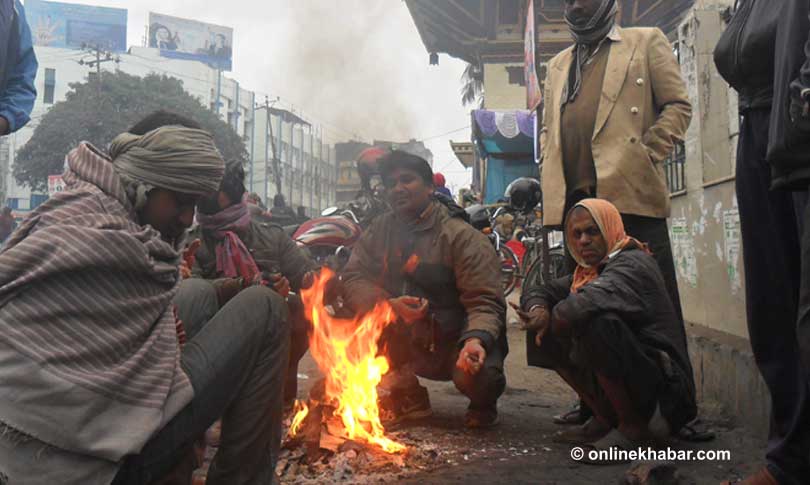 Though almost all newspapers have reported that cold wave has claimed lives in districts of the southern plains, the number of deaths and areas the reports have covered are different. The Himalayan Times says 24 persons died of the cold wave in past few weeks. Naya Patrika puts the toll at 23. Only 19 persons have died, according to Rajdhani.
In Saptari district alone, 14 persons died, according to Nepal Samacharpatra. The Kathmandu Post puts the figure at 15. Meanwhile, three persons in Bardiya, Surkhet and Dhanusha districts died while sitting around fire to keep themselves warm, according to the newspaper.
Gorkhapatra reports that the number of patients at hospitals in various parts of the country has also surged owing to the plummeting temperature. Doctors have suggested that people take measures to keep themselves warm and do not ignore even minor problems including cough and cold, according to the report.
Annapurna Post reports that the current fluctuation in temperature is 'unnatural' in comparison with the weather pattern of last 40 years. Quoting the chief of Department of Hydrology and Meteorology, Rishi Ram Sharma, the report says carbon emission in the urban area caused unnecessary fluctuations.
Meanwhile, the National Human Rights Commission has urged the government and stakeholders to ensure that all citizens can enjoy their human rights without any obstruction, Rajdhani reports.
Oli, Dahal agree to expedite unification process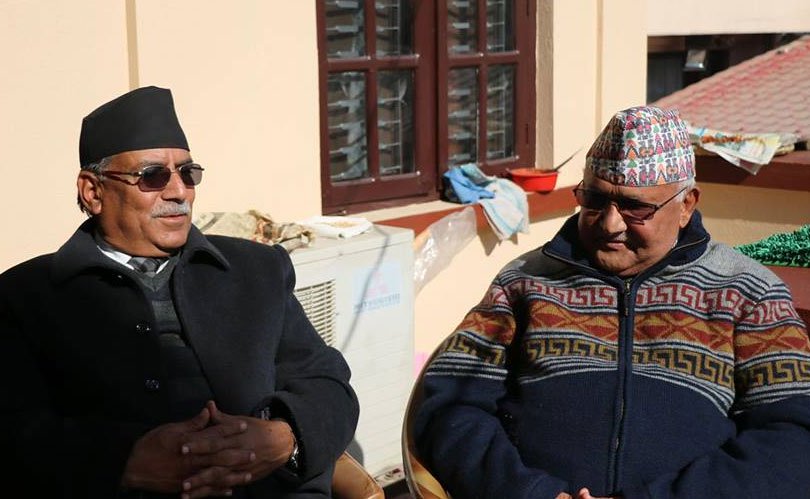 CPN-UML Chairman KP Sharma Oli and CPN-Maoist Centre Chairman Pushp Kamal Dahal held a long-awaited meeting on Sunday evening and agreed to move ahead with the plan to unify their parties very soon, reports Naya Patrika. The report says some concrete steps will be taken to ensure unification before Oli's scheduled medical trip to Bangkok from Wednesday.
During the meeting lasted for one and half hours at Oli's residence in Balkot of Bhaktapur, the two leaders also agreed to form different task forces to settle issues about ideological differences and organisational management, the report says quoting Dahal. A meeting of the inter-party Unification Coordination Committee has been called for Tuesday to form the panels, according to Nagarik.
Meanwhile, Gorkhapatra lead story quotes UML Vice-Chairman Bamdev Gautam to say that the unification process will conclude within next one month.
Ignored
Yadav wants 'honour' for successful poll management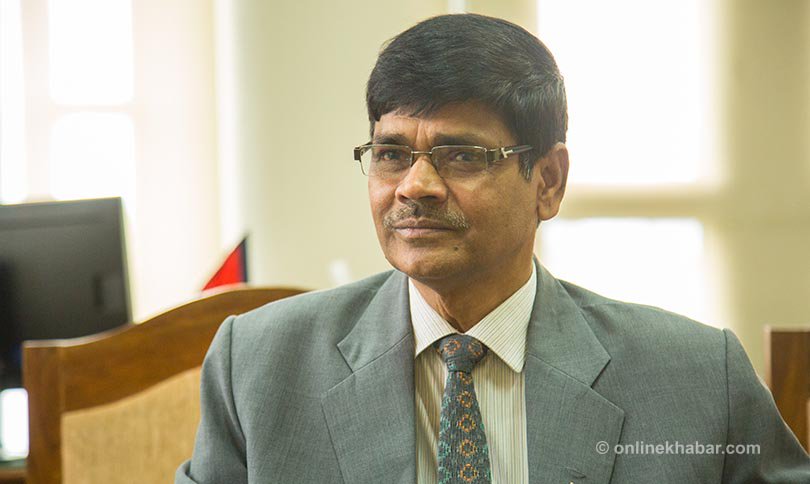 Nagarik says Chief Election Commissioner Ayodhee Prasad Yadav is lobbying for some 'honour and recognition' after his retirement for successfully completing three phases of elections.
Yadav is due to retire after one year and three months and the constitution does not allow him to get reappointed to the post; therefore he has expedited meetings with top political leaders seeking honour, according to the report. A source has informed the newspaper that the delay in making public final results of House of Representatives elections is also attributed to Yadav's lobbying for his personal benefits.
Govt blames Biplav for death of Kalikot temporary cop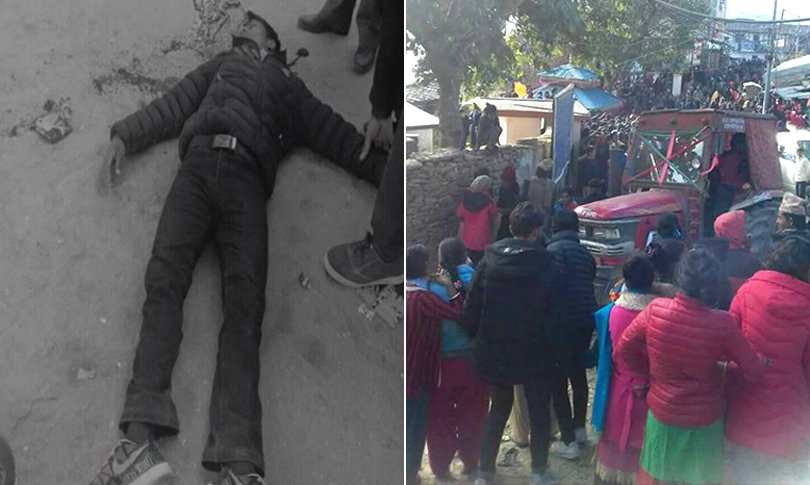 Rajdhani anchor story for the day informs that the Ministry of Home Affairs has concluded that infiltration of cadres of CPN led by Netra Bikram Chand 'Biplav' resulted in the violent clash between temporary police and Nepal Police personnel, in which one retiring temporary policeman died, in Manma of Kalikot few weeks ago.
The Ministry's Joint-Secretary Man Bahadur Bishwakarma, who was assigned to investigate into the case, submitted his panel's report to Secretary Mohan Krishna Sapkota yesterday, according to the report.
Quoting an anonymous source, the report informs that the panel has recommended action against chiefs of District Police Office and District Administration Office.
UNESCO approves 'illegal' commercial complex construction at World Heritage site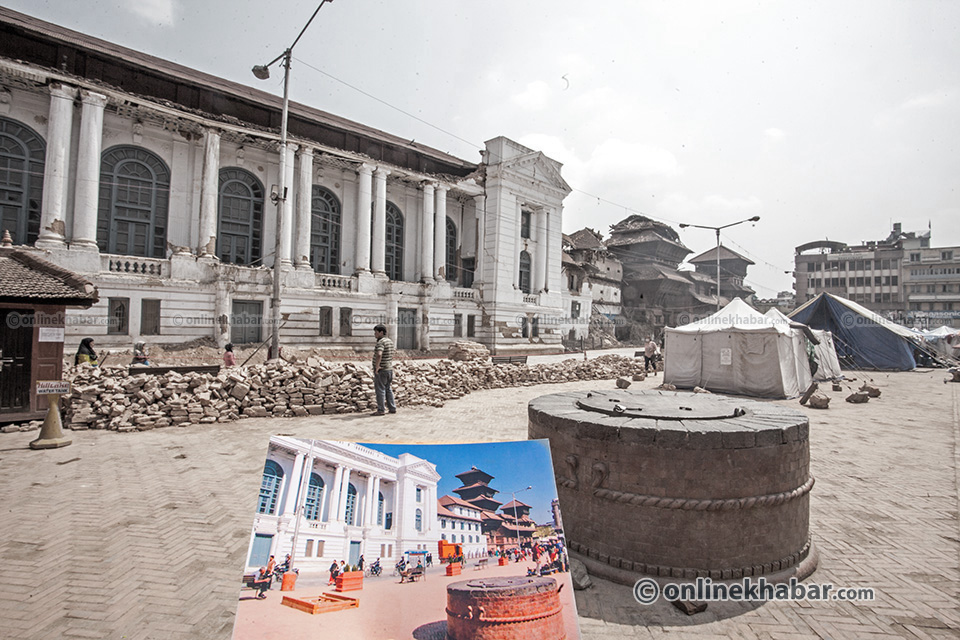 Republica in its lead story claims that the United Nations' cultural agency, UNESCO, approved the construction of a multi-storey commercial complex at the UNESCO World Heritage site in Basantapur of Kathmandu. In response, officials of the Department of Archaeology have demanded that the UN agency apologise for the nod, claiming the construction is illegal as per current preservation laws.
Aruna Nakarmi, Chief of the Hanumandhoka Darbar Museum Development Committee, tells the paper that the UNESCO approval is a clear violation of Nepal's Protected Monument Zone bylaws and the Ancient Monument Presevation Act.
Interesting
CIAA launches probe into Election Commission
Upon receiving complaints that the Election Commission officials were involved in irregularities, Commission for the Investigation of Abuse of Authority has launched a probe into the complaints, reports The Himalayan Times in its anchor story.
CIAA spokesperson Padam Prasad Pandey has informed the paper that two complaints were lodged, claiming funds for four programmes including voter education programme were embezzled.
Meanwhile, the Election Commission made public expenses during recent provincial and federal parliamentary polls, according to the report.
---
Published on January 8th, Monday, 2018 9:46 AM
---
Download Onlinekhabar App. Android click here & IOS click here . Keep in touch with us on Facebook, Twitter & YouTube.