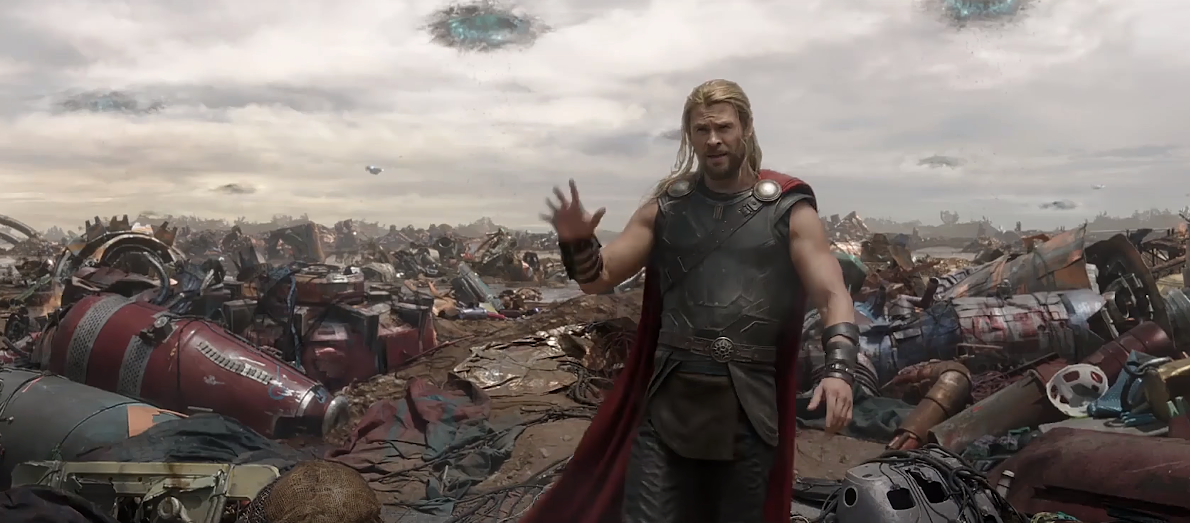 A standalone unofficial third instalment in the Thor series, Thor Ragnarok appeals to fans of the ever-popular Marvel Studios to enjoy the performance of a charming cast and a classic superhero plot line.
Four years after its slightly disappointing prequel came out, Thor Ragnarok had been highly anticipated by fans. Taika Waititi, an 'indie' director from New Zealand, takes the classic superhero story line and creates something funny, enjoyable.
The movie starts off with an action sequence where Thor, played by Chris Hemsworth, is bound by chains, hanging in the 'underworld', where he manages to prompt laughter from the audience with his witty lines and banter while successfully defeating the fire demon, Surtur.
This sequence is one of the key elements of the plot. While imprisoned by Surtur, Thor comes to know that his father is no longer on Asgard, and that Asgard is in grave danger. Thor returns to Asgard to find Loki, played by Tom Hiddleston, masquerading as Odin, Thor's father. An angry Thor demands that Loki, Thor's 'brother' take him to Odin.
Doctor Strange (Benedict Cumberbatch) who is now in-charge of protecting the world from aliens, leads the duo to Odin in Norway. Odin drops a shocking revelation. He has a daughter, the 'Goddess of Death'.
Odin soon dies and Hela visits him. She crushed Thor's famous hammer with ease!
Thor and Loki land on a garbage planet, 'Sakaar' where they reunite with Hulk, played by Mark Ruffalo. The trio is trapped on the planet ruled by the Grandmaster, played by Jeff Goldblum. Meanwhile, Hela lands on Asgard and takes over the throne.
And then ensues Thor and Hulk's struggle to leave Sakaar in order to save Asgard.
With a well-written plot to backup Waititi's direction, Thor Ragnarok has taken its place as one of the best Marvel movies till date. The cast is perfect in delivering their lines as naturally as possible while belting out action scenes–something Jackie Chan would be jealous of. From the sibling banter between Thor and Loki to the introduction of a new side character, Valkyrie, played by Tessa Thompson, the details of the film have been looked after so well that it is difficult to find something negative in the movie.
We have known Thor to be somewhat stoic throughout the Marvel Cinematic Universe, and Loki to be quite the villain, but Thor Ragnarok proves this wrong. We see Thor cracking jokes in the middle of dramatic action scenes and Loki actually being tolerable on the good side. One sequence that had me and the audience rolling in laughter, was the 'Get Help' sequence where Loki pretends to be injured and Thor calls out for help as they come out of an elevator. They use this as a distraction to defeat their enemies on Sakaar, and let's just say Loki was not enthusiastic when Thor threw him at four people.
Hulk's toned-down character surprised me the most. He had some childish elements that made him look a lot softer than in other films and Mark Ruffalo as Bruce who had been suppressed for two years cracks us up with his jabs towards Tony Stark's choice of clothing, which were rather tight on him.
For me though, the jewel in the crown was Cate Blanchett as Hela. From the first sequence she is introduced in, Hela is deemed almost unbeatable- she did, after all, crush Thor's hammer. She carries herself as the Goddess of Death slaying the entire Asgardian army alone and taking over Asgard. Her fights with Thor on Asgard will have you gasping, for reasons you'll find out later; I can say this much. Thor may or may not look like a pirate after the fight.
Marvel has always had big production value and the scale of production is insane; the outfits speak for it. The makeup on Hela makes her look daunting, while Thor sports a new haircut that makes him look softer and cleaner. Loki, on the other hand, looks exactly the same, which might be a good thing. Jeff Goldblum as the Grandmaster slays his outfits that are glamorous enough to fit his eccentric character.
Bruce just wore Tony's clothes throughout which was without a doubt designer.
Thor Ragnarok is full of humour, great characters and a solid story line that is bound to have you glued to your seat. And the fact that it's a 'standalone' is sure to attract even non-Marvel fans to the theatres.
Thor: Ragnarok
Director – Taika Waititi
Cast – Chris Hemsworth, Mark Ruffalo, Tom Hiddleston, Cate Blanchett, Tessa Thompson, Jeff Goldblum, Karl Urban, Anthony Hopkins
Screenings – QFX Cinemas
---
Published on November 6th, Monday, 2017 11:08 AM
---
Download Onlinekhabar App. Android click here & IOS click here . Keep in touch with us on Facebook, Twitter & YouTube.