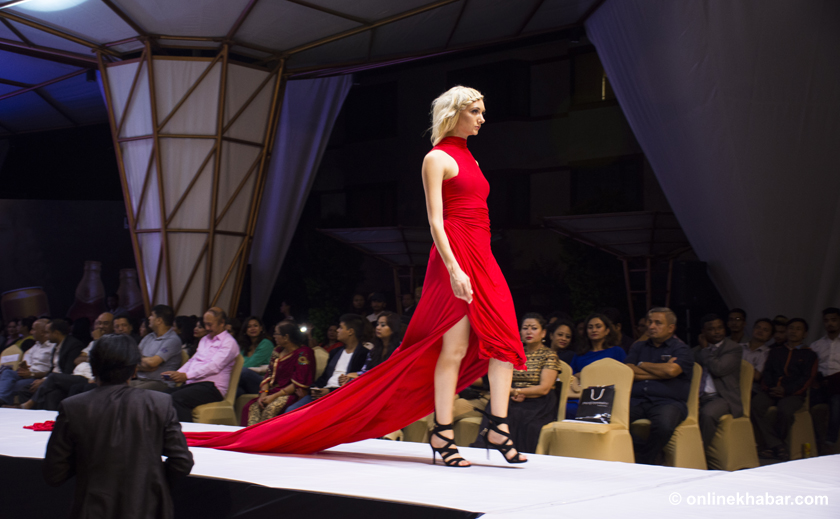 Placing Nepali fabrics on a high pedestal and promoting local designers and aspiring models, the third edition of Fashionmandu Runway Show concluded last week at Hotel Annapurna in Kathmandu.
The main objective of the event, organised in collaboration with Big Bell Edutainment, was to promote local raw materials and to connect Nepali and Australian designers and buyers. But that was not all it achieved.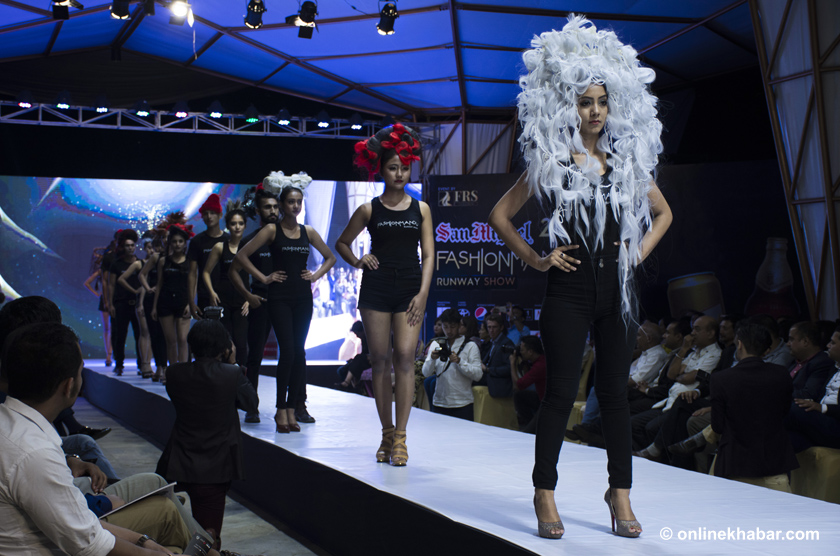 The show began with the emcee introducing the famous Australian hairstylist, Akhim Tan and models flaunting his hairstyles marched ahead on the ramp. Clad in quite a bland ensemble, the models only let their hair do the talking, and it spoke in volumes–projecting bold, dramatic and almost mythical effects. The most eye-catching hairdo was a quirky blend of feathers and strands of hair pulled upright, tangled and tilted to emulate the enchanting look of fairies.
Following the melange of hairstyles, was a spectacular Kumari dance performed by Bajra Dance Group. The dancers  were five girls all dressed in vibrant colours of red, thrusting hands in the air forming positions ready to take over the runway.
After the preliminary performances, it was time for the emcee summon the man of the hour, Prasant Tamrakar, the director of the show. The actor-cum-supermodel-cum-choreographer walked the ramp to acknowledge the support received from various organisations for the event.
The first to showcase his collection on the runway was Rajesh Nepal whose designs were inclined towards his roots and culture. The 'fariyas' had Madhubani or Mithila art-inspired intricate designs. The colours used were subtle tones of orange and blue on cream or off-white fabric all hand-painted and fabricated with the handlooms. Basically, his collection was simple yet alluring; crafted with innate love for the tradionaly way of painting using natural dyes.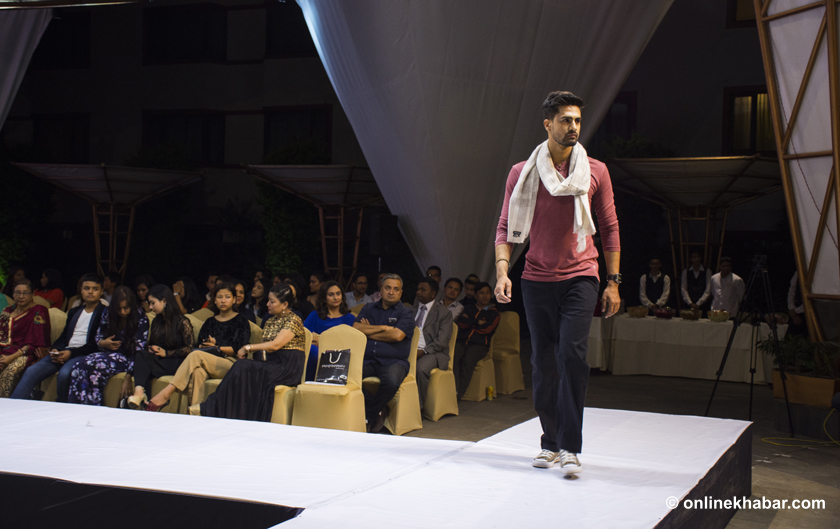 Then, SJ Yolk brilliantly juxtaposed the 60s retro style with glitter and disco-light themed clothing. The collection was retro-chic with a hint of pop and glitter. He had styled jean suspenders with a tangerine crop top and what were different about the suspenders are the sequined Nepali fonts on them. His collection was 'uber-cool' 60s vintage- inspired attire having a little ruffles here, some tartans there and a lot of drapes also incorporating the stark Nepali essence.
Displaying her collections from Karuna Natural Wears, Nuzhat Qazi, brought in ready-to-wear casual and work wears for both the sexes. The materials Qazi used was natural hemp–the most sought after material by foreign designers and of course, cotton. The ensemble was made of solid lime, blue and cream colours, all of which are summer-friendly. A pullover was styled with a light scarf and formal pants on tank tops and a blazer like a cherry on top. These details prove that one can always count on Karuna wears for casual yet classy look.
Next up was Mishu Shrestha's models flaunting MISHU'S. They were clad in exquisitely-coloured cashmere of beige and coffee and olives. The cashmere is 100% Nepal-made. Mishu Shrestha is already an international designer and her works is an epitome of elegance.
Kailash Kuwar boasted his materials such as hand-woven silk. A host of models walked the runway chin-up all proudly showcasing intricate patterns drawn with neon colors and intermittent Vajra print on them. Needless of introduction, Anu Shrestha, the 'chubby-bubbly' designer made her way to the runway while the crowd cheered immensely.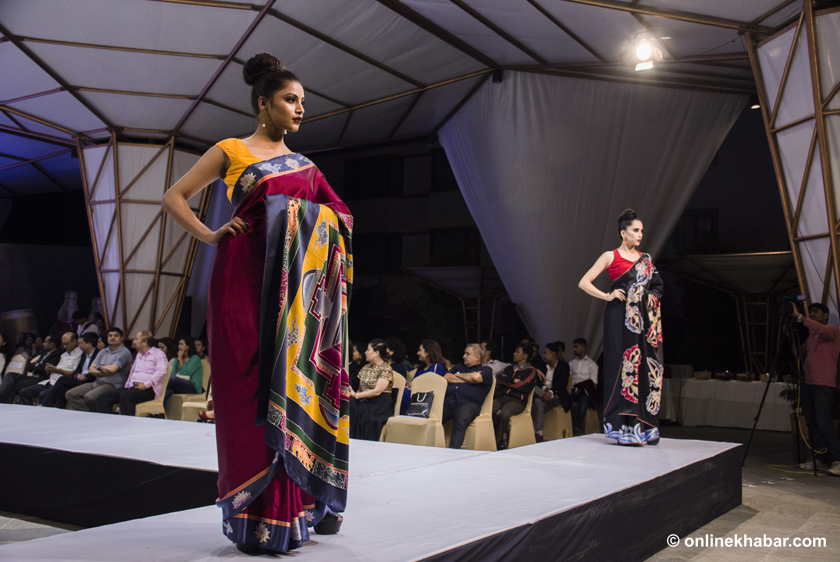 Bishnu Limbu awed the audience with her sequined Indo-Nepali designed lehengas, ghagras and cholis. She gave her own unique touch to each cut and drape making it significant among the plethora of deigns showcased that evening.
---
Published on September 12th, Tuesday, 2017 11:52 AM
---
Download Onlinekhabar App. Android click here & IOS click here . Keep in touch with us on Facebook, Twitter & YouTube.