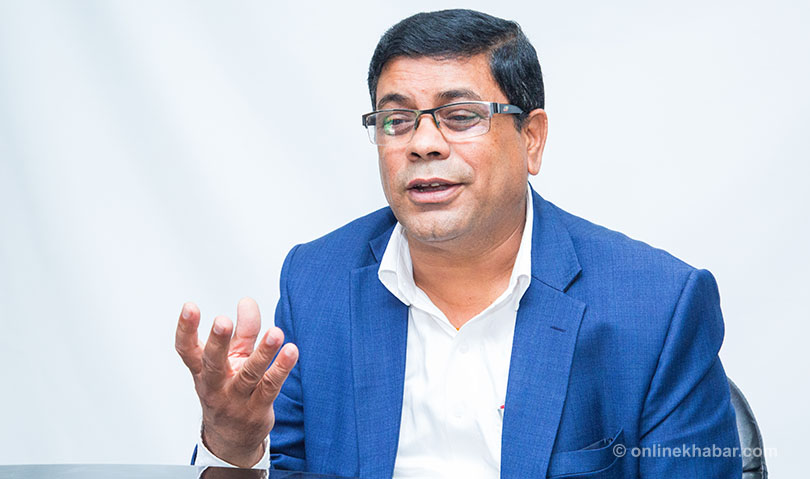 Kathmandu, July 17
Chief of the official trade union of government employees says the government must promote staff being deputed to local and provincial levels from the central government if they meet all criteria for promotion.
Punya Dhakal says the one-rank promotion is a must during the adjustment and therefore said the Staff Adjustment Bill being discussed in Parliament is flawed.
In an interview with Onlinekhabar, he says the trade union has appealed to lawmakers and political parties to amend the Bill before endorsing it.
He says top officials have been tarnishing the image of civil servants rumouring that the staff are not ready to take up the assignment; and further challenges secretaries to join the provincial or local level offices without promotion.
"The secretaries who are lecturing us are not going to provinces. They are preparing to promote joint-secretaries and sending them to provinces," he says, "Is Dinesh Thapaliya, Secretary at the Ministry of Federal Affairs and Local Development, ready to go to the province? Is Chief Secretary Rejendra Kishor Chhetri ready?"
"If they are ready, all staff are ready to get deployed without one-rank promotion," he says.
"The official trade union of civil servants has been intentionally bypassed while tabling the Bill," he says, "Why did not they include the staff, for whom the Bill is being prepared, in its drafting process?"
"We have protested the Bill because the Chief Secretary and some other secretaries and top officials manipulated the government to prepare the Bill in their favour."
Meanwhile, Dhakal also demands that not only the address mentioned in the citizenship certificate, but current address of the staff, be made a basis to determine new workstation in the process of adjustment.
Likewise, the Bill should not bar promotion and recruitment of new staff for the first year as it has currently proposed, he adds. "This is unacceptable to us as well as all unemployed youths."
READ ALSO:
---
Published on July 17th, Monday, 2017 11:14 AM
---
Download Onlinekhabar App. Android click here & IOS click here . Keep in touch with us on Facebook, Twitter & YouTube.